About Our Shed Base Kits
With each shed base kit you will receive the following:
A 5ft x 4ft shed base made from recycled plastic covering approximately 5ft x 4ft (20ft²),
A 2m x 1.35m membrane which is laid under the base to prevent weeds and plants from growing up through the foundation whilst allowing rain to drain away naturally,
5 U-pins used to secure the membrane into the ground.
Our eco-friendly shed bases are manufactured here in the UK from 100% recycled plastic. Owing to their unique formulation, our strong but flexible blend of recycled plastic makes every foundation both UV and weather resistant. Its resilience against the sun, rain and heat means that your shed base will not rot away or break down over time which can be the case with more traditional foundations such as wood or concrete. With a specially designed cell structure our bases have a large load bearing capacity (up to 420 tonnes) as well as being fully permeable which means that rain and other liquids will drain naturally away from your garden building, reducing the chances of surface water being absorbed and potentially rotting your shed.
Additional information
| | |
| --- | --- |
| Weight | 12.96 kg |
| Base Length | 5' (1.52m) |
| Base Width | 4' (1.22m) |
| EAN | |
What is included in garden base kits?
In each garden base kit you will receive a set number of plastic garden base panels, a 2m x 1.35m membrane sheet and 5 steel u-pins.
What are your garden bases suitable for?
Our plastic shed bases can hold up to 420 tonnes per square meter. They are a suitable foundation for almost all greenhouses, log cabins, summerhouses, wendy houses and even sheds with heavy equipment inside. Please contact us on live chat if you are unsure.
Can Garden Bases be installed on to concrete slabs/pads?
Yes, they can be installed onto concrete slabs or pads. The base allows airflow under the garden structure and elevates it out of any potential surface water.
Should I use a damp proof membrane between by base and my garden structure?
No, we do not recommend this as although it will keep damp from rising to your structure, any dampness that leaves your structure will then sit on top of the membrane directly under your structure.
Can I use your base panels instead of concrete?
Yes, our base panels are a fantastic alternative to concrete thanks to being UV & weatherproof so will not break down or rot away. The specially designed curved cell structure is also one of the main reasons for its fantastic permeability and load-bearing capacity of 420 tonnes.
How much aggregate/gravel should I use?
8kg of aggregate/gravel per panel or 72kg per m2
What size gravel/shingle/pea shingle should I use?
We recommend using anything up to 20mm.
Does the shed base need to be filled with gravel or is it strong enough without it?
The shed base is strong enough without gravel. The gravel can be used to compact and enforce even more and for decorative use.
Can I cut the shed base panels?
Yes they can be cut and we recommend using a fine tooth saw.
Do I need pegs to secure my base?
Only areas which have a gradient over 12% will require pegs.
How do I know which side of the panel to put down?
The bottom of the base has 'X-grid' written on it, indicating the face you put on the ground.
Can the base panels be stacked on top of each other?
No, the bases were not designed for to be stacked when installed.
Can I be guaranteed the same colour all throughout my product?
Our products are new generation manufactured entirely from post-consumer recycled plastic; this means you may occasionally find very slightly different shades of colour.
Where can I find installation instructions?
Install guides can be found on the 'downloads' tab. In addition, more information on installations can be found through our blogs and YouTube videos.
What sub-base do I need under my shed base?
We recommend you prepare the ground below your base with approximately 100mm of a compact hard base (type 1 or type 3), a weed-suppressing membrane and sand to level.
What is the difference between compact hard base type 1 or type 3?
Compact hard base, type 1 is much finer and can occasionally dust while the compact hard base, type 3 is larger and more permeable.
Will the shed base allow grass to grow in its cells?
Yes, grass can grow in the panels cells when filled with soil and seed.
Can I put the base straight onto grass or soil?
We recommend not installing directly onto grass or soil but instead install onto a compact hard base or similar as it creates a sturdy, even base. Soil or grass can and most likely will absorb water leading to sinking and creating an uneven sub-base for your shed base.
How much is delivery?
Delivery is £10 for any quantity of grids, bases, mats, tiles and accessories.
How quick is shipping?
We typically endeavour your product to be delivered within 3-5 working days but the expected delivery time of your purchase will be displayed clearly at checkout.
How are the products packaged?
We take great care when packaging your order to ensure that our products reach you in the best possible condition. In addition, we are always trying to be more sustainably friendly therefore try to minimize the amount of plastic packaging we use around our products and use recycled packaging.
How will my order be sent?
Our plastic base panels are 33cm x 33cm. For ease, speed, and efficiency of shipping, we pack your 20 panels in a box with membrane sheet and pegs and send through courier network.
Garden Base Installation Video
To help our customers pick the right product and learn more about how our products can be used, we have compiled blogs which can be read by clicking the button below.
6ft x 4ft Plastic Shed Base Installed Under A Fearnwood Products Shed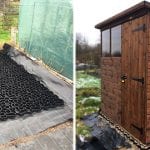 This case study comes from Peter who purchased a 6ft x 4ft Shed from Fearnwood Products who are based in Benfleet. His new shed was going to be...
read more ❯