Showing all 7 results
Our range of rubber flooring products can be used as playground flooring, gym flooring, balcony flooring, paths and much more
We have a range of rubber surfacing solutions that will provide you with a non-slip, strong, easy to install and durable surface for a large number of applications. The three rubber products we currently stock all have their own uses and benefits. Their benefits make them the ideal product for a number of different applications from creating walkways across grassed areas, to being used as the flooring of a yoga room to making balcony flooring. The rubber grass mats, rubber tiles and rubber gym mats are all excellent products for their intended purposes and will prove to be a great addition to your upcoming project.
Carrying different benefits such as different critical fall heights means that one product may be more suited to your project than the others. Browse our range of flooring products and if you have any questions about the rubber products we stock or require assistance in deciding if they would be suitable for your upcoming project then please do not hesitate to contact us, you can leave us a message or live chat to a member of our team.
Learn More About Our Rubber Flooring Products
From being used to create paths, playground safety flooring, gym flooring, terrace and balcony surfaces we will have a rubber matting that will be ideal for your upcoming project. So whether you need safety flooring, a grass protection mat or a new exercise floor you can be assured we will have the ideal product for your project. Below is a little more information on each of our flooring solutions and why you should use them:
Rubber Grass Mats
Our rubber grass mats provide you with fantastic grass protection and safety solutions for so many applications. Made from 100% recycled rubber, each mat is strong, durable, easy to install and will not rot away or break down over time. These benefits make them the ideal product for creating paths, paving gardens and used in high foot traffic grassed areas. One of the grass mats main use is to protect the root of grass and allow it to grow back naturally over time had it been damaged. Another popular use is as playground flooring, this is because of the (23mm) rubber grass mats amazing fall height of 3.3 metres which means they can be used for almost any play area flooring as long as its size comes within the critical fall height.
Rubber Tiles
Available in three colours, red, green and black, our fully recycled rubber tiles are versatile paving products that can be used in a number of ways. Their most popular use is as safety flooring for low-level playgrounds. With a critical fall height of 1 metre they provide an added protective layer to low-level play areas where children may experience trips and falls as well as adding a decorative aspect to the playground due to the three available colours. As well as being used in play areas, the rubber tiles can also be used to create soft, durable and non-slip roofing, balcony and terrace flooring. Being weather resistant they will not be affected by extreme hot and cold temperatures or wind and rain whilst giving you a supportive surface.
Rubber Gym Mats
Our rubber gym mats are the ideal products for creating a durable, non-slip, noise and fatigue-reducing rubber gym flooring for both commercial gyms and even home gyms. Each mat we supply is robust enough to be able to withstand the pressure/weight and wear & tear of workouts including free weights, cardio and classes such as yoga or Zumba all while repelling moisture and odour to ensure the hygiene levels of your gym room or area as high as possible. Creating an effective gym flooring is easy to do too since each mat is simple to handle and can be connected together by using their specially designed interlocking pegs and holes which make laying areas of any size a simple procedure.
Related blogs
We have published a number of blogs related to this category to help showcase how the product can be used.
Everything You Ever Need to Know About...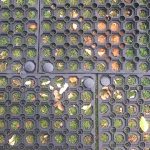 A blog teaching you everything you could ever need to know about Rubber Grass Mats from its many uses to how to install them
read more ❯