Our Rubber Gym Flooring is heavy-duty, non-slip and fully recycled rubber gym mat which is ideal for both indoor and outdoor use
Our rubber gym mats are the ideal solution for almost any home or commercial gym flooring issue. The mats are strong, non-slip and robust and whilst being able to withstand the weight and wear and tear of some workouts, our mats are also soft to help reduce fatigue and the risk of shin-splints all whilst repelling any odours and moisture to keep the hygiene levels of your gym area or room as high as possible. Along with all of these benefits, our gym mats are also very easy to install as they are easy to handle and can be connected together using their specially designed interlocking pegs and holes.
Browse our rubber gym mats product and if you have any questions about the gym flooring we stock or require assistance in deciding if they would be suitable for your upcoming gym flooring project then please do not hesitate to contact us, you can leave us a message or live chat to a member of our team.
Where Can Rubber Gym Mats Be Used?
Our versatile rubber gym mats and gym flooring can be used in a variety of places to create a soft yet strong and non-slip rubber flooring which is ideal for almost any type of exercise. From use with free weights to cardio and yoga classes.
Home Gyms
When creating home gyms, the room of choice for most people is often a garage due to its large spaces and solid construction. It is an ideal location for working out and exercising as it is segregated from the rest of the house and will not disrupt others within the home. The only drawback is that garages floor is almost always made from concrete so you need our rubber gym mats to effectively create a rubber carpet. The tiles provide you with fatigue and shin-splint reducing flooring that is ideal for so many exercise techniques.
Commercial Gyms
All commercial gyms have a soft flooring area where cardio can take place and free weights can be used effectively. The odour and germ replant qualities of the gym mats make them ideal for communal exercise areas where many people will use the same equipment and floor space in the same day. Whilst reducing fatigue and the risk of shin splints whilst also protecting the ground below from dropped weights you can be assured this gym flooring will provide you with a great floor for years to come.
Related blogs
We have published a number of blogs related to this category to help showcase how the product can be used.
Rubber Tiles Used As Gym Flooring By...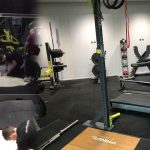 Case study from Absolute Commercial Interiors who used our black rubber tiles as gym flooring at a commercial gym
read more ❯
Rubber Grass Mats Used Under Fitness Trees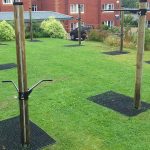 See how Fitness Tree use our rubber grass mats to support the user whilst allowing drainage and protecting the grass
read more ❯
Rubber Gym Mats Used To Floor A Home Gym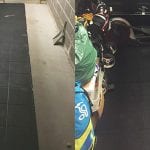 See how Steve used our Rubber Gym Mats to covert his garage from a storage area into a great home gym
read more ❯