Our grass protection mesh, GrassMesh is an easy to install, strong, durable, non-slip, wheelchair friendly, SuDs compliant, chemical, rot and UV resistant product which is suitable for use under both pedestrian and light machinery traffic.
Grass protection mesh is available in three grades or sizes: Light, medium and heavy-duty which are all capable of withstanding pedestrian, wheelchair, cyclist and light machinery traffic. The grades show how frequently the mesh can be used from rarely to regularly. The amount of traffic your area experiences decides on which type of grass protection mesh you require. Areas that experience regular daily traffic needs heavy-duty mesh, areas that encounter traffic on an occasional basis would require the medium-duty mesh whilst areas that experience very infrequent traffic would need the light-duty mesh. Each mesh is also fully SuDs compliant meaning it allows any surface water to drain naturally away into the ground below reducing the chances localised flooding.
If installed correctly, all 3 meshes will prove to be a discreet and protective part of your grassed area that allows you to mow, fertilise, feed and treat the grass as normal. We are able to supply grass protection mesh for both domestic and commercial projects of any size and are able to offer next day delivery if required.
What Can Grass Protection Mesh Be Used For?
GrassMesh is versatile and easy to use making it suitable for a number of different projects where a grass protection solution is required. Preventing erosion of grass and extending the life of turfed areas whilst being almost invisible once the grass below has grown makes our grass protection mesh a very popular product. Below are just a few examples of how GrassMesh can be used.
Grass Paths & Walkways
Under wheelchair, pedestrian and light machinery traffic, grassed areas can become heavily damaged, muddy messes. GrassMesh can however be a solution for preventing this type of damage and in some cases even correcting these areas and restoring them to their former glory. By protecting the root of the grass and taking the weight of foot traffic on paths, it prevents pedestrians, cyclists and wheelchairs from eroding the current grassed area. Grass protection mesh provides you with a strong, discreet, durable and non-slip pathway that can support from light to heavy pedestrian, light machinery and wheelchair traffic.
Preventing Dogs Digging
We have had customers in the past contact us as their beloved dogs have been digging up and destroying their grass and garden. Our grass protection mesh has proved to be a gentle deterrent whilst allowing the damaged areas to regrow naturally to its previous state. The mesh can aid in changing your garden from looking like an excavation site back to its lush self while still allowing your 4 legged friends to run normally in the garden.
Related blogs
We have published a number of blogs related to this category to help showcase how the product can be used.
Everything You Ever Need to Know About...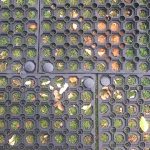 A blog teaching you everything you could ever need to know about Rubber Grass Mats from its many uses to how to install them
read more ❯