Showing all 9 results
Our grass reinforcement mesh, TurfMesh is a strong, easy to install, non-slip, wheelchair friendly, SuDs compliant, rot, chemical and UV resistant product which is suitable for both pedestrian and vehicular traffic.
Grass reinforcement mesh is available in three grades or sizes: Light, medium and heavy duty which are all capable of withstanding vehicular and pedestrian traffic. Generally, the thicker mesh the stronger it is and the more traffic it can withstand. Although thickness does vary, each mesh is strong, durable, wheelchair friendly, long lasting (lifespan of up to 20 years) and discreet if installed correctly and once the grass below has grown sufficiently. Once installed you can treat your grassed area exactly as you would before, you can mow, feed and weed it knowing it is as strong as ever. Being SuDs compliant you will have an effective fast drainage surface which allows water to drain away naturally and reduce the risks of flooding mainly caused by over capacity within existing drainage and waterways.
We are able to supply grass reinforcement mesh for domestic and commercial projects of any size and can offer next day delivery if so required.
What Can Grass Reinforcement Mesh Be Used For?
TurfMesh is a versatile and easy to use product which is suitable for a number of different projects where a grass reinforcement solution is required. Thanks to its strength, durability and long life span it can be used as both short term and long term solutions. Below are just a few examples of how TurfMesh can be used.
Grass Car Parking
With its non-slip qualities and ability to withstand vehicular traffic, grass reinforcement mesh is the ideal product for creating grass car parks and small grass car parking areas. Simply peg the mesh in place using U-Pins and either allow the grass below to grow fully or start using it straight away. The mesh can hold the weight of the car and deal with the tyres traction without being damaged. Whilst withstanding the car it also protects the root of the grass below and allows it to thrive as it should naturally meaning you have an effective car parking area which is both strong and attractive as the mesh becomes almost invisible once the grass has grown.
Grass Access Route
Many places require a suitable access route for emergency vehicles to use to gain access to relatively difficult to reach places such as at festivals, events and more. TurfMesh can be applied to grassed areas to create a strong, SuDs compliant and non-slip route that allows large vehicular access whilst protecting the grass and ground below from erosion. Installed by using u-pins you can create a path of any shape or size to allow access for vehicles to specific areas. We recommend using the heavy duty TurfMesh 1800 for access routes to ensure that there will be no issues when in use.
Grass Pathways & Walkways
Under pedestrian and wheelchair traffic grassed areas can be heavily damaged and become muddy messes. TurfMesh can be a solution for preventing and sometimes correcting these muddy areas restoring the grass to its former glory. Installed using just u-pins to secure the mesh to the ground, grass reinforcement mesh provides you with a discreet, strong, durable and non-slip pathway that can support light to heavy pedestrian and wheelchair traffic for years if installed correctly whilst allowing the grass below to recover and thrive.
Related blogs
We have published a number of blogs related to this category to help showcase how the product can be used.
18m² Green X-Grid®Grass Driveway...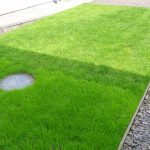 This case study shows how Tim & Janet created a strong, long lasting and attractive grass driveway using green x-grid
read more ❯