Showing all 13 results
Related Categories
All products
Ground Reinforcement Grids made from 100% recycled plastic suitable for car parks, driveways, pathways, access routes and so much more!
We have a range of ground reinforcement grids available for purchase with one-day delivery if required. X-Grid is an effective porous paving solution and our most popular product from the entire range. Manufactured in the UK from specially formulated recycled plastic, each panel we produce is both UV and weather resistant so will not break down or rot away over time which can be the case with more traditional surfacing materials. Thanks to its intelligent design, X-Grid is also fully permeable and incredibly strong, so any rain or water can drain away naturally reducing surface water build-up and the chances of localised flooding and is so strong that it is able to withstand up to 420 tonnes per square metre when unfilled.
In addition to the above benefits, X-Grid is also incredibly simple to install thanks to its simple slot and peg system and lightweight frame. It is so simple in fact that one person can lay 100m² of X-Grid in just one hour. Not only is X-Grid one of the best performing grids on the market but it is also one of the most environmentally friendly and affordable ground reinforcement grids you can get. With all of these benefits, why look anywhere else for a ground reinforcement solution?
For more information on X-Grid, take a look at our Technical Guide or to see how simple X-Grid is to install, read our in-depth Installation Guide.
How Can X-Grid Be Used?
As mentioned above, X-Grid is incredibly versatile so can be used for a number of applications. Below are just a few examples of how they can be used effectively:
Driveways And Car Parks
Car parks and parking spaces are required almost everywhere whether it be at home, work, supermarkets, restaurants or events. In the past people may have simply opted for a concrete or a similar material, but following a series of serious floods throughout the UK there has been a lot of attention on creating both strong and SuDs compliant car parks that will help reduce the likelihood of localised flooding.
This is where our X-Grid ground reinforcement grids come into play, able to provide you with a 95% open-cell porous surface that allows rain to drain away naturally whilst being able to withstand up to 420 tonnes per square metre. Its strength means that it can withstand up to 30 tonne axle loads making it compliant with DIN 1072 and EN ISO 124B/125 (car park requirements). Their easy installation also means that anyone can install X-Grid regardless of if they are completing a DIY project for their drive or a large commercial car park. You can also choose the finish of your driveway or car park too, you can fill X-Grid once laid with decorative angular gravel for a french drain system or fill it with soil and seed for a grassed area.
Equestrian
The most challenging part of creating equestrian facilities is creating a floor that is soft enough for horses to use but also strong enough to cope with the stress those areas are put under every day throughout the year. In certain areas such as paddocks, grazing areas or around stables you may find that during bad weather, the grass and soil begin showing signs of wear with rutting, mud patches and potholing that can make the area unsafe to use.
This is where X-Grid can be used, when installed and filled with either sand, gravel or soil and seed mix, you will have a strong yet forgiving under hoof surface that protects the ground below and ensures it is not damaged by constant use but also does not impact the horses or rider as heavily as other types of ground.
Access Routes
Access routes are vital for applications where you will find a large groups of people driving their cars or walking 'off road' such as on caravan and camping sites, at sporting venues or schools. While providing a solid and reliable track for visitors to use, it is also a legal requirement for emergency services to have an efficient route so they can respond to time-critical events. The term access route is used to describe roads/tracks regularly used leading to private grounds and public areas commonly found at schools or village halls that generally use grass areas for parking which can lead to the grass and soil becoming muddy, rutted and sometimes even impassible.
This is where our X-Grid ground reinforcement grid can be used. When installed, it reinforces the existing ground and means that the traffic that passes over the grassed area does not rely on the strength of the grass and soil. This is because the wheels only ever come into contact with our incredibly strong grid which also eliminates any muddiness as the soil cannot be reached. X-Grid is also fully permeable which means rain and water drains away naturally so there is less surface water build-up and helps discourage local flooding.
Related blogs
We have published a number of blogs related to this category to help showcase how the product can be used.
Garden Rescue Featuring X-Grid Gravel Grid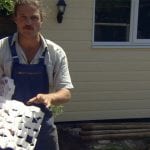 See how X-Grid was used by BBC's Garden Rescue to help transform Paul's back garden
read more ❯