Our range of garden edging products allow you to create attractive and strong divisions between two or more landscaped areas of your garden such as your lawn, flower beds, paths and patios
Our garden edgings are perfect for producing decorative and reinforced, straight or contoured separations between landscaped areas. Here are just a couple of ways our edging can be used: to separate grassed and turfed areas, section off flower beds, install alongside paving systems such as X-Grid, retain gravel and other materials or to create defined pathways. All edgings we currently stock are made from 100% recycled plastic and allow you complete control over the shape of your border, you can create straight or curved edges to meet your specific requirements thanks to their strength and flexibility. This range of edging products can be used both commercially and domestically on the largest and smallest of jobs to prevent crumbly edges, potential migration and grass or plants from growing outside of their boundaries.
Browse our range of garden dividers and if you have any questions or require assistance in deciding which product is most suitable for your project then please do not hesitate to contact us, leave us a message or live chat to a member of our team.
What Type Of Garden Border Edging Do You Stock?
We stock quality, cost-effective and attractive fully recycled edging products that will allow you to create durable, decorative, weather and UV resistant borders in your garden. Each edging is also easy to install and we have suitable fixings in stock for you to purchase at the same time as your edging. Used for such a wide variety of projects we will have an edging to meet your needs. Below are three examples of garden edgings we currently stock
EcoLat
EcoLat is a decorative garden edging product made from 100% post-consumer plastic waste which is available in Grey or Brown and in roll sizes of 25m, 10m and 2m to ensure you can order the correct amount for your upcoming project. EcoLat is also easy to install, simply position your edging and install an ecopic at 1 metre intervals. EcoPics are fully recycled, colour matching stakes which go into the ground either beside or being the edging to hold it in place. Used mainly to create attractive separations between lawns and flower beds, Ecolat can also be used around plants, driveways, paths and anywhere else a defined edge is needed.
GeoBorder
GeoBorder is a straight, interlocking, recycled plastic and black edging product which comes in one metre strips and can be installed either straight or contoured to meet your edging requirements. GeoBorder is also easy to install, it is secured into the ground using black plastic nails (sold separately) and it is recommended that six of the nails are used per linear metre. GeoBorder is ideal for creating edges next to lawns, paths, patios, highway verge paving, driveways, courtyards and flower beds but is also perfect for use alongside X-Grid in projects.
Black Plastic Roll Edging
Our black plastic edging roll is made from fully recycled plastic and is ideal for creating crisp and clean edges around your lawn or grassed areas, flower beds, driveways, patios, paths and so much more. The black roll path edging is very simple to install too and doesn't always require a fixing, simply dig a thin trench where you wish to install the edging, place your edging in the trench and backfill sufficiently to ensure it will not move. As well as this, each edging roll is strimmer proof, rot, decay or rust-resistant, leaving you with a clean and tidy separation that requires little to no maintenance.
Related blogs
We have published a number of blogs related to this category to help showcase how the product can be used.
Black RecoEdge Garden Edging Installation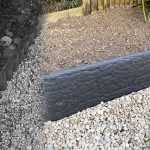 Installing an edging system may be one of the last...
read more ❯