Showing 1–16 of 417 results
Related Categories
All products
Garden Furniture Range
Browse our range of outdoor furniture available for purchase now. From a garden sofa set to a garden dining set to sun lounger sets, we are certain to have the perfect furniture to meet your wants and needs. If you're looking at a relaxation area for use after work or at the weekends, a garden dining area to make the most of the British summer or just a small bistro table and chairs our range can provide that and more. The aesthetically pleasing patio furniture range we currently stock will enhance the appearance of the outdoor area where it will be placed whilst also providing you with an effective seating, dining or relaxation area for you and your family and friends to enjoy! Learn more about the different types of outdoor furniture by reading on:
Garden Sofas
Why not bring the living room outside with you? With our range of garden sofas, you can kick back and relax all day and before enjoying those summer evenings under the stars. Improve your garden with the introduction with a garden sofa set which you can utilise for relaxation on warm days, sunbathing or even hosting garden parties, these pieces of garden furniture are an absolute must-have for all gardens and outdoor spaces. The practicality and attractiveness of each modern styled garden sofa set we have in our range they will be a welcomed addition to all gardens and patios where you can enjoy time with friends and family. See the range and learn more by visiting the garden sofas category.
Garden Dining Set
Garden dining sets are incredibly popular here in the UK, their comfort, appearance and versatility make them the ideal addition to any garden or outdoor space. Add family, friends, food and drink and you have everything you could need in your own garden. There truly is no better feeling than sitting in your garden or on your patio with loved ones on a warm day or summers evening enjoying each others company with food and your choice of beverage. This is why we have ensured we source the best range of outdoor dining sets from small bistro sets to large 10 seat dining tables, we're certain to have a suitable collection for everyone. You can see the range and learn more by visiting the garden dining set category.
Garden Lounge Sets
Garden lounge sets are the ideal addition to any garden or outdoor space from your patio to your decking to a paved area. These versatile sets can be used for everyday relaxing, catching up with friends and family, working outside, dining alfresco or hosting parties, the possibilities really are endless. There is nothing better than basking in the sun or spending time together deep into the night and you can do that on attractive, comfortable and durable furniture sets which will very quickly become the centrepiece of your outdoor space. These varying sets include sofas, lounge chairs, stools, tables and so much more to ensure you can find the perfect collection for your wants and needs. You can see the range and learn more by visiting the garden lounge set category.
Garden Bar Sets
Almost everyone loves going to the pub or a bar and enjoying a drink or two with family or friends, so who wouldn't want to achieve that feeling from the comfort of their own garden. Get your outdoor space party-ready with an attractive, uniquely shaped and manufactured bar set where you can be the host with the most. Drink, food and company are all you need to make the most of your outdoor bar set where you can socialise, dine alfresco or party into the night. Each bar set is designed to be stylish, functional and durable whilst becoming the centrepiece of your garden. You can see our full range and learn more by visiting the garden bar sets category.
Garden Benches And Seats
Garden benches and garden seats are the perfect seating accessories for your garden or outdoor space. Our range varies from benches to day beds to hanging swing chairs. A classic bench can put the finishing touches to any outdoor area, providing you with somewhere to enjoy your morning coffee, enjoy some sun or spend time with a loved one. Our benches have a modern twist and are manufactured from different materials such as aluminium and are topped with luxurious cushions to ensure you are sitting comfortably at all times. Daybeds and swing chairs are an alternative to a bench or sofa as they offer you the comfortable seating option you require but in a uniquely attractive way. You can see our full range and learn more by visiting the garden benches and seats category.
Garden Table And Chairs
Enhance your garden, patio or outdoor space with our range of table and chairs to provide you with stylish new seating and areas ideal for family mealtime plus alfresco entertaining of friends and family. Available in a range of sizes and styles you can choose the correct outdoor dining set to meet your needs from 2 seater bistro tables to large 6 seater garden dining set or 6 seater garden bar tables. Our garden table and chair sets are the ideal addition to any garden where you can enjoy snacks, coffees, meals and cocktails in the sun on a piece of outdoor furniture which blends design with functionality. Learn more by visiting the garden table and chairs category.
Sun Loungers
Sun loungers can be the closest feeling to actually being on holiday soaking up the sun, take a look at our range of garden sun loungers in which you can sit back, relax and get that holiday feeling. Our comfortable loungers are both attractive and long-lasting thanks to their fantastic rattan design and manufacture which mean they can last throughout the year and through the UK's sometimes harsh weather. Create the most comfortable outdoor seating area in your own garden, patio or another outdoor area with our sun lounger range which are adjustable to allow you to kick back and relax in your favourite position. Learn more by visiting the sun loungers category.
Arbour Seats
Arbour seats are attractive, tranquil and unique seating areas which allow you to relax or spend time with your friends in a comfortable area with a roof to protect you from the sun and light rain. These superb protected seating areas are the perfect addition to all gardens and outdoor spaces thanks to their attractive appearance and functionality. To learn more and truly appreciate the arbour seats we stock, visiting the arbour seats category.
Picnic Tables
Picnic tables are more commonly found in parks and beer gardens but they can look just as at home in your garden or outdoor space. These comfortable, easy on the eye and efficient multi-person wooden or other material seating and dining areas are perfect for dining, drinking and spending time with friends and family both in the sun and at night. Learn more by visiting the picnic tables category.
Wooden Garden Furniture
Choosing a piece of wooden garden furniture provides you with furniture which is practical, great looking and comfortable. With the right care and maintenance, wooden outdoor furniture gives you a stunning garden accessory which brings an authentic rustic feeling to your outdoor space. Due to the versatile nature of wood, there are a wide variety of shapes and sizes available with wooden furniture to ensure your needs and wants can be easily met. Our range of wooden furniture ranges from seating areas to dining areas to storage. Learn more by visiting the wooden garden furniture category.
Rattan Garden Furniture
Rattan garden furniture sets are attractive, durable and long-lasting. It is the perfect type of garden, patio and outdoor furniture to last through the unpredictable and sometimes harsh British weather. The unique design which is created from brown or grey polyurethane material creates an attractive woven effect on your furniture. The rattan range varies from garden sofas to sun loungers to garden table and chairs so you are sure to find a piece or set of rattan furniture to meet your needs. The range also comes with a number of accessories such as scratch-resistant and easy clean glass table toppers, deep filled luxury cushions and more. Due to being manufactured from polyurethane with strong aluminium or steel frames you can be assured your rattan furniture will last whilst providing you with comfort for years to come. Learn more by visiting the Rattan garden furniture category.
It is very important that you plan ahead for the future to ensure you keep your garden furniture in the best condition possible. We recommend parts of your furniture such as the cushions to be stored indoors and the frames which stay outside to be covered well with a plastic covering during winter months and poor weather. So ensure you have space to hold a full corner sofa worth of cushions and have an efficient cover to keep the frame dry and safe outside.
If you would like to more information about our range of outdoor furniture or would like to speak to a member of our friendly team then please do not hesitate to contact us. You can call us, LiveChat during office hours or leave us a message.
Related blogs
We have published a number of blogs related to this category to help showcase how the product can be used.
Chelsea Corner Sofa Set & Albany Fire Pit -...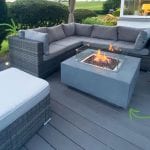 A case study courtesy of a past customer, Ronnie, who...
read more ❯
Top 5 Garden Dining Sets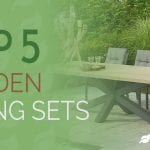 The addition of the correct dining set to your garden can add the finishing touch to your outdoor space. Here are five of our most popular garden dining sets.
read more ❯
How To Care For And Maintain Wooden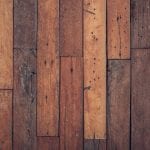 Learn how to properly maintain and clean your wooden furniture and structures to prolong their lives
read more ❯