Showing all 4 results
X-Grid is strong, 100% recycled plastic, migration free and permeable. Perfect for creating gravel driveways, car parks, paths and so much more!
X-Grid is a fantastic gravel retention grid which we manufacture ourselves here in the UK from 100% recycled plastic. We have stock of X-Grid available for purchase all year round with next working day delivery available if required. X-Grid is a very effective grid and is the most popular product from our entire range of products. As each panel is made from 100% recycled plastic, they are all UV and weather resistant so will not rot away or break down over time which can be the case with more traditional surfaces. Thanks to its intelligent open cell design, X-Grid is fully permeable and incredibly strong. So any rain that falls can drain away naturally reducing surface water build up or puddling and the chances of localised flooding and is able to hold up to 420 tonnes per square metre when left unfilled.
In addition to the benefits mentioned, X-Grid is also very simple to install thanks to its lightweight frame and slot and peg connection system. It is so easy to work with that one person is able to lay 100m² of X-Grid in just one hour. So not only is X-Grid one of the best performing grids on the market but is also one of the most affordable and environmentally friendly gravel driveway grids you can find. Gravel migration and rutting can be a real issue for loose gravel areas. You can try to install edgings or rake the gravel back in to place over and over again, but you will still find gravel has moved under the weight of a car or heavy foot traffic which results in rutting or aggregate being spread all over the surrounding area. This is where our gravel grid, X-Grid, becomes a perfect solution. Its open cell structure locks the gravel in place to prevent any migration and fortifies the ground and supports car tyres without creating displacement as it holds the gravel in its individual plastic cells which help maintain the design and appearance of your gravel area. With all of the mentioned benefits, there is no need to look elsewhere for gravel grids!
For more information on X-Grid, take a look at our Technical Guide or to see how simple our X-Grid are to install, read our in-depth Installation Guide.
What Can Gravel Retention Grid Be Used For?
X-Grid is an incredibly versatile plastic driveway grid that can be used for a huge range of applications both domestically and commercially. Thanks to its massive amount of benefits, X-Grid is the go-to grid for many contractors when taking on appropriate projects. Below are some examples of how X-Grid can be used.
Gravel Driveways
Gravel driveways are one of the most common uses for X-Grid. Due to its open structure, our plastic driveway grid can be filled with angular gravel which sits in the individual plastic cells to create the perfect gravel parking surface which will not migrate, rut or puddle whilst maintaining its design and appearance. If installed correctly on a good sub-base, X-Grid can be a strong and durable long term parking solution that will easily support the weight and movement of HGVs, coaches, lorries, vans, cars and motorbikes. X-Grid is also SuDs compliant which means any rain that does fall will drain away naturally and greatly reduce the chances of surface water build up and localised flooding.
Car Parks
Car parks are needed pretty much everywhere and with a lot of focus on reducing urban flooding following serious floods in the past few years, why not replace your concrete or tarmac car park with a gravel filled X-Grid car park. Being fully permeable (unlike concrete or tarmac) thanks to its 95% open cell design, there will be a huge reduction in surface water build up as rain can drain away naturally into the ground below. As well as its permeability, X-Grid is also incredibly strong which makes it a great choice for paving your car park. Able to withstand up to 420 tonnes per square metre unfilled and capable of withstanding up to 30 tonne axle loads. X-Grid is compliant with DIN 1072 and is suitable for car parking under EN ISO 124B/125.
Permeable Paving
There has been a lot of attention on urbanised flooding in the UK over the past few years following a number of cities and towns being affected by floods. This is why SuDs (Sustainable Urban Drainage Systems) compliance was brought in during the Flood and Water Management Act 2010. The best way to reduce flooding is prevention which is why our X-Grid panels are a great strong and permeable surfacing solution for urban projects. X-Grid has a 95% open cell structure which allows rain and water to permeate through and be absorbed by the ground below, reducing the amount of water sent into our drainage systems that have proved time and again they can struggle to cope with large amounts of rain we experience leading to flooding.
This is why so many people are deciding to swap their hardscaped driveways, pathways, access routes and more for permeable surface, why not use our gravel retention grid X-Grid which is just as strong as their existing surface but helps reduce water-logging, surface water and localised flooding.
Related blogs
We have published a number of blogs related to this category to help showcase how the product can be used.
Greenhouse Base - The Benefits Of A Plastic...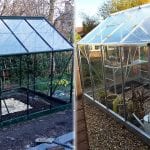 When buying a greenhouse there is a large selection of structures to choose from but when it comes to a base there is only one choice...
read more ❯