Showing all 5 results
Garden Sheds
Garden sheds are the perfect garden building for your garden or outdoor space. Perfect for storing anything and everything, a garden shed helps to reduce clutter within your house and makes your garden much tidier. As well as this sheds make sure that whatever you store is in a safe and dry place while not in use, meaning you don't have to worry about losing or damaging anything.
Why a Plastic Garden Shed
Plastic garden sheds are ideal when it comes to modern, contemporary sheds. Available in a range of colours and designs, plastic sheds give you a level of versatility which is unmatched. Plastic sheds are perfect for any garden or outdoor space as they require little to no maintenance. This means that you never have to worry about the contents of the shed or the shed itself. The plastic materials used to manufacture the sheds makes them extremely hardy and long-lasting, with sheds being able to stay in gardens for years and years, trouble-free. As a result of this, there is less harm on the environment, as with a long-lasting shed you will be less likely to require a replacement. As a further bonus, after the shed is finished being used the materials can be recycled to create new products. Thanks to plastics properties, many plastic sheds come weather and UV resistant meaning you don't have to worry about leaks, peeling or discolouring, meaning your sheds stay looking as good as possible for as long as possible. This also ensures that the contents of the shed will be safe and dry even in the harshest of conditions.
Plastic Shed Base
When installing a shed it is essential that it has a strong foundation to make sure the shed lasts as long as possible without any sinking or damage beneath the shed which may cause structural issues. Our own shed base is manufactured from 100% recycled plastics. It is able to hold up to 420 tonnes per m2 and is perfect to act as a foundation for any garden building. Thanks to its unique design, it has excellent drainage preventing water build-up beneath the shed and in turn, reduces the chances of rotting occurring.
For more information on our range of plastic sheds please do not hesitate to contact us and speak to a member of our knowledgeable and friendly team. You can call us or LiveChat during office hours or leave us a message outside of these times.
Related blogs
We have published a number of blogs related to this category to help showcase how the product can be used.
Keter Oakland 11'x7.5' Plastic Shed -...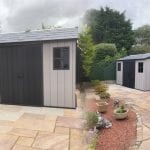 See how Brian, a past customer, ordered and installed a Keter 11'x7.5' Oakland Plastic Shed.
read more ❯