About Wooden Sheds
Wooden Garden sheds provide you with a beautiful, natural and rustic looking garden building that cannot be achieved by other materials. These sheds are a popular choice for shed owners in the UK thanks to their variety in style and price, meaning there is a solution for everyone's garden storage needs regardless of space and budget. Varying from small storage sheds to large workshops, the possibilities are truly endless with a timber shed. If treated well a shed can almost be an extension to your home providing much more than just a storage space but somewhere you could work on projects or plan out your next gardening tasks. When it comes to selecting a wooden garden structure it is important to take into account what you are wanting to store to ensure you are gaining enough room for your tools, bikes and more. It may also be worth exploring the possibility of shelving or table space which can give you the required room to work on your projects. Timber sheds also host a number of environmentally friendly advantages as once installed in your garden they can last for years to come meaning that there will be no need to replace the shed and also at the end of their working life, each shed can be recycled meaning no materials are ever wasted.
Wooden Garden Shed
Wood sheds are incredibly popular in the UK with most shed owners opting for the timber variant when selecting their shed. This is the case for a number of reasons;
There is a large choice of sheds available both in terms of size and shape,
A variety of styles can be picked from including tongue-and-groove, overlap or shiplap with a pent or apex roof,
The natural appearance adds to or fits in with the appearance of your garden (if not wood can be easily painted to fit the aesthetics of your outdoor space),
If correctly treated can be part of your garden for years to come and so much more.
For more information on our range of wooden sheds please do not hesitate to contact us and speak to a member of our knowledgeable and friendly team. You can call us or LiveChat during office hours or leave us a message outside of these times.
Related blogs
We have published a number of blogs related to this category to help showcase how the product can be used.
8ft x 6ft Plastic Shed Base Installed Under...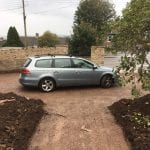 [siteorigin_widget class="SiteOrigin_Widget_Headline_Widget"][/siteorigin_widget] This case study comes from Fredrik who was looking...
read more ❯