About Our Garden Dining Sets
Food, drink, family and friends are all we need, as well as somewhere to seat everyone! There is no better feeling than sitting out in your garden or on your patio with your loved ones in warm weather enjoying each others company over some delicious food and your choice of beverage. This is why we have put so much effort into sourcing the best quality outdoor dining sets ranging from a small and contemporary two-seater bistro sets to a large, luxury 10 seater dining tables to ensure we have a suitable table and chair solution to meet your wants, needs and wishes. Available in a range of materials including wood and metal such as aluminium, we're sure to have a table and chair set which will complement and improve your current outdoor space.
Ideal for being placed on your garden, patio, decking, balcony and more, our dining table and chairs are versatile and eyecatching centre-pieces which will add to the overall appearance of any garden or open space. When the Summer finally arrives with us, you'll want to ensure you have a suitable dining area where all of your friends or family can comfortably sit and eat whilst enjoying the warm weather that doesn't stick around for long enough. The unique design and manufacture of each of our dining sets allow you to create a modern and elegant setting whilst on the other end of the scale you could create a more rustic setting, the choice is yours. Built to last, each and every one of our sets have the ability to be a mainstay in your garden for years to come should they be cared for correctly which we will cover later on. Learn more about the different material outdoor dining sets we have available below:
Metal Dining Sets
Metal framed and topped dining sets are elegant, classy and sleek additions to your patio, garden or outdoor space due to their unique appearance which can only be achieved through the used of metals such as aluminium when in manufacture. Supplied with thick luxurious cushions for comfortable seating in which you an relax, catch up, host friends and family parties and even work, metal garden dining table and chairs provide furniture sets with endless possibilities. The versatility, of course, comes from metals many benefits too such as being incredibly strong, practical, low maintenance and attractive which provides you with a table with a long working life and beautiful modern appearance.
Wooden Dining Sets
Wooden dining tables and chairs are the most commonly found dining sets found in gardens around the UK. The natural look and feel of wood along with the unique appearance which is added to your garden or outdoor space makes them a top choice for most. A variety of woods are used to create traditional furniture sets and the quality of each wood can create a price difference but the quality of our sets are constant. Although wooden furniture does require more regular maintenance (which will be covered later on) than other types of table and chairs, it can still be the centrepiece of your garden or patio for years. Some are supplied with comfortable cushions to create a pleasant relaxing seating solution and ensure you can sit back and watch day turn to night.
Caring For Garden Dining Sets
Certain outdoor dining sets require little to no maintenance but there are still certain steps which you should take to help prolong the life of your set and ensure it can be used at any time with zero fuss. First is an obvious step but to store any additional cushions indoors when not in use to keep them dry, clean and safe. Second is to cover your set with a furniture cover to protect the table and chairs from rain, wind and all other weathers. These two steps are perfect for the UK weather since you can experience rain one minute and the next glorious sunshine for the rest of the day and vice versa, so you can easily set up and put away your set in just a moment without the need to dry off. Other steps you can take are to regularly clean your furniture with warm soapy water to remove any built-up dirt which can also affect the aesthetics of the area. In addition to metal garden dining tables, you may need to touch up the frames with cut and cover kits similar to what are used on cars. Wooden table and chairs are a little different, they can require strict maintenance such as regularly staining and treating the furniture with water-based, solvent, spirit-based, oil-based or pressure treatments (the choice on which one is yours) to ensure they are able to withstand all weathers the UK climate throws at it. To learn more, read our blog on how to care for wooden furniture.
If you require more information on our range of garden dining sets, please do not hesitate to contact us and speak with a member of our knowledgeable and friendly team. You can either call us or LiveChat during office hours or leave us a message outside of these times.
Related blogs
We have published a number of blogs related to this category to help showcase how the product can be used.
Top 5 Garden Dining Sets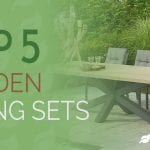 The addition of the correct dining set to your garden can add the finishing touch to your outdoor space. Here are five of our most popular garden dining sets.
read more ❯