Before or after purchasing a piece of wooden furniture, it is incredibly important to consider maintenance to prolong the life of your new product. In this blog we will be sharing how it is recommended that you clean, maintain and treat your wooden furniture and keep it in top condition for as many years as possible.*
When cleaning wood it is best to use hot soapy water and a sponge to simply wash your wooden surface, before allowing to dry and re-washing with just water to remove any remaining soap suds before again allow to dry fully. 
Ensure you clean your wooden furniture on a warm and dry day as rain will wash the soapy water away and negatively affect the cleaning process. If your wooden furniture is especially dirty then sanding the wood down after it has been washed will remove any tough bits of dirt to ensure your furniture is truly clean.
We recommend covering or storing wooden furniture overnight, through harsh weather and the winter. When covering your furniture, using a waterproof sheet which covers the entire structure so no rain or wind can reach the furniture is the best option. These can be purchased from a number of places and are very easy to put in place and take off.
Another option is to put the furniture in a dry storage space such as a garden shed. Keeping your furniture in a dry place and out of the rain and cold helps to prevent mould from forming and in turn keeps it in the best condition possible for longer.
Interested In New garden furniture?
View our range by clicking here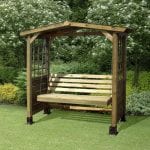 Mould, Algae & Green Growth
With wooden furniture it is very common for mould algae and other green growth to appear over time. When this does occur it can catalyse the process of decay, meaning your wooden furniture will decay at a much faster rate. In order to prevent this it is very important to keep it as clean and dry as possible. If mould does appear, you must remove green areas or mouldy areas as soon as possible using our cleaning method mentioned earlier.
Please do not use a pressure washer as this can chip or damage the wood, which would not only ruin your wooden furniture's appearance it could also lead to structural issues and points of weakness with the furniture.
Oil treatment is a great method of keeping your wooden furniture in the best condition or restoring it to its former glory but there are easier ways to achieve these results. If you do choose to oil your wooden furniture  there are preparation steps which need to be taken. Before oiling the furniture you must make sure that the wood is clean, which is done by washing with soapy water on a dry day as mentioned earlier.
Once the wood is clean and dry begin applying the oil. When applying the oil ensure it is applied in an even layer all over. To get the best results and get the most out of your wooden furniture it would be best to oil 2 to 3 times during summer months.
Some wooden furniture comes with a wax layer on them. If this is the case with your furniture, it would be best to replenish the layer by simply re-waxing the surface. 
Much like with oiling the wood it is necessary to take preparation steps should be taken which is cleaning and drying. Once dry, apply the wax layer evenly and covered the entire structure before leaving to set.
Certain stains are especially hard to remove but we have found home hack solutions to some of the more common stains and marks. Use these methods at your own discretion.
One of the most common stains with wooden furniture is white rings on the surface which are caused by from drinks. To remove these white rings simply mix equal parts toothpaste and baking soda before rubbing onto the stain before simply wiping away to reveal no mark.
The second most common stain is dark spots from water damage. To remove these dark marks gently blot each dark spot with a vinegar soaked cloth until the spot fades. 
The third issue is more common with younger children, and this is when there are crayon marks on the table. To remove the crayon marks simply layer mayonnaise (Yes, mayonnaise) on top of the stain, leave it for a few minutes before wiping away. 
Now you are well informed on the best methods to maintain, clean and store wooden furniture or structures.
Take a look at our wooden garden furniture range and wooden shed range to find a piece which suits your wants and needs!
For more information on our range of products, please do not hesitate to contact us!
*Please note that the advice and tips given in this blog are not always suitable for all types of shed or garden building or garden furniture. Please check with your manufacturer before carrying out maintenance to ensure the suitability. We will not be held responsible for any damages resulting from undertaking any of the methods or processes contained in this blog.
Inspired to get your own garden furniture?
Click here to view our range