Showing all 4 results
Gravel Driveway Grids manufactured from 100% recycled plastic suitable for creating strong, migration free and permeable gravel driveways!
We have a great range of gravel grids for purchase with next working day delivery available if required. X-Grid is an effective gravel driveway grid and our most popular product from the entire range. Manufactured in the UK from a 100% recycled plastic, each panel we produce is both UV and weather resistant so will not break down or rot away over time which can be the case with more traditional driveway surfaces. Thanks to its intelligent open-cell design, X-Grid is fully permeable and incredibly strong, so any rain that falls can drain away naturally reducing surface water build-up and the chances of localised flooding and is so strong that it is able to hold up to 420 tonnes per square metre unfilled.
In addition to the benefits mentioned, X-Grid is also very simple to install thanks to its lightweight frame and slot and peg connection system. It is so easy to work with that one person can lay 100m² of X-Grid in just one hour. So not only is X-Grid one of the best performing grids on the market but is also one of the most affordable and environmentally friendly grids you can find. With all of these benefits, why look anywhere else for a gravel driveway solution?
What Are The Benefits Of Using Gravel Grids?
You will more than likely find that if you have a gravel driveway installed without the used of a driveway grid system that you will run into several issues that can make having one an annoyance. Here are a few issues you may find with a standard gravel driveway and how X-Grid can be the solution to your problems:
Gravel Migration And Rutting
Gravel migration and rutting is a real issue for gravel driveway owners. You can install edgings or rake the gravel back in to place over and over again, but you will still find gravel has moved under the weight of a car and is shallower in some areas or aggregate is all over the pavement next to your driveway. This is where our gravel grid, X-Grid, can be used as a solution to your maintenance issue. Its open-cell structure locks the gravel in place to prevent any migration. The cellular design fortifies the ground and supports car tyres without creating displacement as it holds the gravel in its individual plastic cells to help maintain the design and appearance of your driveway.
Drainage Issues And Puddling
If you have just a layer of hardcore under your loose gravel you may find after a bit of time, following constant use and compacting through a cars tyres the gravel and sub-base can become solid. This leads to any rain or water being unable to drain away leaving you with large puddles in your gravel which take a long time to dry up or eventually drain through the almost impermeable sub-base. The use of X-Grid and its open cell structure dissipates pressure and weight over a larger area to ensures the sub-base does not become a solid non-permeable surface which in turn reduces surface water build-up and reduced the chances of localised flooding.
For more information on X-Grid, take a look at our specification sheet or to see how simple a X-Grid is to install, read our in-depth Installation Guide.
Related blogs
We have published a number of blogs related to this category to help showcase how the product can be used.
Garden Rescue Featuring X-Grid Gravel Grid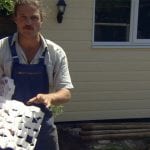 See how X-Grid was used by BBC's Garden Rescue to help transform Paul's back garden
read more ❯