Showing 1–16 of 45 results
Related Categories
All products
See our range of different garden base products
We have a large selection of garden bases available which can be used to create strong and permeable foundations under a whole range of garden structures such as sheds, greenhouses or hot tubs. You can learn more by reading on.
Shed Bases
Browse our large range of environmentally friendly shed bases which are manufactured here in the UK from 100% recycled plastic. The unique formulation of our plastic foundation means that every base we supply is both UV and weather resistant. Their resilience to heat, rain and the suns UV rays ensures that your shed base will not break down or rot away over time which can sometimes be the case with more traditional base methods such as wood or concrete. As well as the formulation, our shed bases also have a unique cell structure that creates a large load-bearing capacity (up to 420 tonnes) whilst being a permeable surface, this allows rain and other liquids to drain away naturally from your shed and reduce the chance of it absorbing any water and becoming rotten.
Each shed base can also be installed quickly all thanks to their simple slot and peg connection system and lightweight frames. They are so effective that one of our plastic shed bases can be laid in just a fraction of the time it would take to create a concrete base. You can also decide how you want to fill and finish your base too, there are a couple of options to choose from. You can either: fill the base with gravel to create a french drain like system, fill with soil and seed (adequate growing time may be required) to create a grassed base or you can simply leave the panels unfilled and just install your shed.
You can rest assured that our bases will work with almost any shed regardless of what it will be used for, its size or its shape. For more details take a look at our range of plastic shed bases or you can contact us to speak with a member of our team.
Hot Tub Bases
Our large range of hot tub bases are suitable for almost any hot tub regardless of its size, make or model. Our interlocking plastic base panels are manufactured here in the UK from 100% recycled plastic. Thanks to its special design, each panel weighs only 0.57kg and has a simple slot and peg connection which makes installing our bases an incredibly simple process. Being easy to install does not mean our bases aren't strong either, all of our foundations are able to withstand up to 420 tonnes per square metre when unfilled.
The strength of the base comes from its unique structure which is open and allows the base to be permeable. The permeability lets any overflowed water or rain drain naturally away into the ground below which would not be the case with traditional bases such as concrete or wood. Along with all of these benefits, each base is also UV stable and weatherproof so will not be affected by the sun or rot away due to cold or heat. Every base will provide a solid foundation for your hot tub for years to come and reduce your future base maintenance costs.
Related blogs
We have published a number of blogs related to this category to help showcase how the product can be used.
Greenhouse Base - The Benefits Of A Plastic...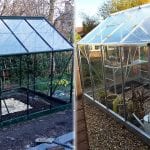 When buying a greenhouse there is a large selection of structures to choose from but when it comes to a base there is only one choice...
read more ❯