Sheds, Greenhouses, Log Cabins and other garden buildings are bought and installed for a number of different uses. From a storage unit, to a games room to even a new bedroom, the possibilities are endless provided that they are prepared correctly with a good base and the structure is insulated and watertight. The correct base will be strong, permeable and also resist bad weather. This means that your new garden building has the best chance of avoiding any movement or sinking, any rotting and any slanting should a base not be strong enough. Luckily our base is strong enough, permeable and can resist bad weather. Read on to see how our plastic shed base achieves all of this!
Jump To:
The Project
Our case study today comes from Brian who was shopping around for a new shed where he could set up his own workshop, fitted with saws, vices and even some drills. As the items inside would be slightly larger than the usual contents of a shed it needed protecting both with a lock and key but also with our base to support the structure and to keep any surface water as far away as possible from possibly rotting.
With his new shed purchased Brian began looking at possible bases online to see if he could find anything that matched exactly what he was looking for to stand his new workshop on. After a few Google searches, he found our website and began browsing our full range of bases and information pages to see if our product would be right for him. With so many benefits associated with our base it was a simple decision for Brian especially compared to having a simple concrete base that would have cost a lot and taken a lot longer to have installed. Brian ordered his 42 Plastic Shed Base Panels and Shed Base Membrane the same day he found us and received them 3 working days later. Read on to see how Brian installed his base and shed;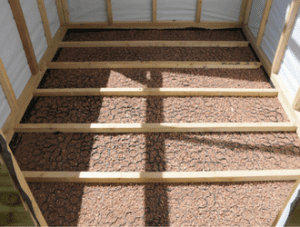 The Work
Brian began work on his new shed base as soon as he could. He started by planning, measuring and outlining where his shed base would be stood in the garden. This outline gave him the outline of where he needed to dig to create a small 'hole' where he could install his new base. The excavated turf and soil was disposed of responsibly before Brian continued with the project.
With the area clear Brian began laying his sheet of membrane, he rolled out the sheet and secured it into the dugout ground using Membrane Staples to ensure there would be no movement when stepped on or once the base was installed. Membrane is used to allow water to drain away naturally whilst acting as a barrier and stopping any weeds or plants from growing up and through the base.
Once the membrane had been secured it was time to begin laying the base panels. Brian told us how easy this was to do, he started in one corner and began laying the panels and simply attaching them together as he went along using the slot and peg system. This took no time at all and required no heavy lifting or hard labour which is required with a concrete base. To complete the base Brian filled the secured panels with decorative gravel. Around 8kg of gravel is needed to fill each panel fully.
Finally, with the base installed Brian could set about building his shed and its flooring. He laid wooden planks across the base and secured into the ground to create a small space between the shed and the floor to allow good airflow and further reduce the chance of rotting. On top of the wooden planks he installed his brand new shed and quickly began furnishing it to ensure he could begin working as soon as possible.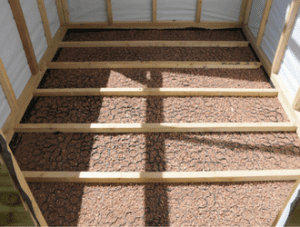 Conclusion
Brian is very pleased with how his Shed looks and the entire project had turned out, spending so little time on the base allowed him to install and furnish his new shed much sooner than he had expected. We agree that his garden looks fantastic with the addition of a workshop shed!
"Your eco base with a membrane below gives me a very strong surface to sit the floor on. I think you have a good product, easy to use and it is so much better than using concrete."
We would like to say a huge thank you to Brian for the great photos and information he sent in, enabling us to create this case study and showcasing his brand new garden workshop. Should you have any photos or information to share with us or questions regarding our products then please do contact us.