Playground flooring is usually created using our colourful rubber play tiles or by using our simple, durable and highly effective rubber grass mats
When creating a playground or play area, finding a safe flooring solution is usually one of the most important parts of the projects. We stock two different safe play flooring products, rubber grass mats and rubber play tiles, both of which are ideal for creating durable, soft and most importantly safe surfaces under all different types of play equipment. Both have been installed domestically and commercially, from being used under a small swing set and climbing frame in a back garden to being used under a large playground at a wildlife centre we will have a suitable play surface that will reduce the chances of serious injury should any trips or falls occur. Our play tiles are available in 3 colours (red, green and black) and are ideal for use on low-level play whilst our rubber grass mats available in two thicknesses (16mm and 23mm) can be used for both low and high-level play. You can learn more about our two types of playground flooring by clicking on the 'Read More' button below.
Browse our range of playground flooring products and if you have any questions about our play tiles or rubber grass mats or require assistance in deciding if either would be suitable for your upcoming playground or play area project then please do not hesitate to contact us, you can leave us a message or live chat to a member of our team.
Which Playground Flooring Product Should I Use?
The height of play dictates which playground flooring product you should use. For low-level play equipment below 1 metre you should be looking at using our vibrant rubber play tiles or our 16mm rubber grass mats due to their critical fall height of 1 metre. For high-level play equipment, you should only be looking at our 23mm rubber grass mats due to its excellent critical fall height of 3.3 metres. Below is more information on our rubber play tiles and rubber grass mats.
Rubber Play Tiles
Our rubber play tiles are excellent at creating vibrant, decorative, soft and protective play flooring for low-level equipment. Its fall height of 1 metre means that they should only be used as the safety flooring under small swing sets, climbing frames and sensory play areas. The tiles are easy to install and are used to create a decorative, non-slip, stable, and low maintenance flooring which also maintains natural drainage routes. The routes mean that air, water and essential nutrients are able to reach the ground below which may not be the case with other play flooring. The three available colours mean you can create one solid coloured area or make a decorative patterned area by using different coloured play tiles.
How Do You Install Rubber Play Tiles?
Rubber play tiles are easy to install using either just interlocking pegs or with rubber adhesive. Start by measuring and marking out your area and where the play tiles will be installed. It is optional to lay an adhesive membrane on top of the existing surface on to which you can install the tiles. On top of the membrane, begin laying one rubber play tile at once and connect any neighbouring tiles together using the interlocking pegs (if you have chosen the interlocking tile). It is not necessary but you can also use a rubber adhesive to stick the play tiles to the membrane for a more secure finish but they will perform just as well without.
Rubber Grass Mats
Our fully recycled rubber grass mats are incredibly popular, strong, non-slip, wheelchair friendly, weather-resistant, durable, and versatile products that can be installed almost anywhere to create a simple yet effective safety flooring around childrens playgrounds or play areas. We stock two types of grass mats, 23mm and 16mm. The only difference other than the thickness of the product is the critical fall height, our 23mm grass mats have a fantastic critical fall height of 3.3 metres making them ideal for high-level play and our 16mm grass mats have a critical fall height of 1 metre making them ideal for low-level play. Our grass mats have holes in them to allow the grass below to grow back naturally and can lead to the mats becoming almost invisible under the newly grown turf whilst still maintaining nature's drainage routes to allow rain and surface water to drain away naturally.
How Do You Install Rubber Grass Mats?
Rubber grass mats are very easy to install and usually require no ground preparation. Simply measure and mark out where your grass mats are going to be installed and cut the grass if you are installing onto grass. Lay your purchased mats in place in the marked out area cutting and shaping any mats that may require so. Ensure the installed mats are butting together before connecting neighbouring mats together using cable ties (2 on the short side and 3 on the long side). Finally, once the mats are cable tied, secure each grass mat into the ground below using plastic fixing pegs (one in each corner and one in the middle – 5 in total) to ensure they do not move when used.
Related blogs
We have published a number of blogs related to this category to help showcase how the product can be used.
Everything You Ever Need to Know About...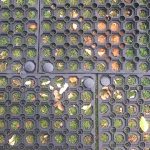 A blog teaching you everything you could ever need to know about Rubber Grass Mats from its many uses to how to install them
read more ❯