Showing all 4 results
Our recycled rubber play tiles are the perfect safety flooring products for low level play equipment
Our play tiles can be used both commercially and domestically under smaller play equipment to create vibrant, soft, protective, non-slip, stable and low maintenance flooring. Tested to BS EN 1177 standards, each rubber play tile has a critical fall height of one meter so is only suitable for low-level child's play. You can purchase tiles in either black, red or green to create stimulating, attractive solid or patterned flooring whilst increasing the safety of play equipment. The vibrant colours encourage children to continue their development outdoors whilst giving you peace of mind that there is a safe flooring where your children are playing.
Browse our range of rubber playground tiles and if you have any questions about the rubber tiles we stock or require assistance in deciding if they would be suitable for your upcoming project then please do not hesitate to contact us, you can leave us a message or live chat to a member of our team.
Learn More About Our Rubber Play Tiles
Our versatile playground safety tiles that provide you with decorative, soft, safe and durable play flooring are available for purchase now. Create safe low-level play surfaces that will give you peace of mind that your children are safe when playing on our tiles. Whilst carrying all of the benefits previously mentioned, they are also easy to install. Below is a short installation guide for the rubber play tiles giving you another reason to use them for an upcoming project:
How Easy Are Rubber Play Tiles To Install?
Our playground tiles are easy to install using either the interlocking pegs or rubber adhesive. Start by measuring out and marking where your play tiles are to be installed. Then you have the option to lay an adhesive membrane on top of the existing surface or not. On top of the membrane or existing ground, begin laying one rubber play tile at once and connect any neighbouring tiles together using the interlocking pegs (if you have chosen the interlocking tile) or using rubber adhesive to keep the tiles in place. Simply repeat the process of laying one tile at time and securing until the area is complete.
Related blogs
We have published a number of blogs related to this category to help showcase how the product can be used.
Everything You Ever Need to Know About...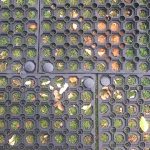 A blog teaching you everything you could ever need to know about Rubber Grass Mats from its many uses to how to install them
read more ❯