A range of plastic bases that are suitable for all sheds regardless of size, shape or purpose
We have a large range of shed bases products currently available that are suitable for creating strong and stable foundations for any wooden, plastic or metal shed you may have. All of our bases are designed and manufactured here in the UK from recycled plastic, which has also been sourced domestically.
About Our Bases
Each and every base we supply is an environmentally friendly foundation solution which has been manufactured here in the UK from 100% recycled plastic. Every individual panel has been specially designed to help you create a long-lasting, durable base that is easy to install. The unique cell design of our base allows each foundation to have a fantastic load-bearing capacity of up to 420 tonnes per square metre. The unique design of our shed flooring product helps to improve airflow beneath your shed and allow water to quickly soak away around its perimeter, helping to reduce the risk of rot or weather degradation.
Our eco shed base products are designed with outside in mind. Manufactured to be UV resistant, tolerant of extreme temperatures (both high and low) and immune to common garden chemicals, you can be sure that the plastic used in these garden shed base products will last for decades without breaking down.
Along with the previously mentioned benefits, all of our plastic shed foundations are also very easy to install thanks to their lightweight frames and slot and peg connection systems. Each base panel is easy to move, lay and connect to neighbouring panels, for this reason, you can install one of our bases in just a fraction of the time it would take to create a concrete base. You are also able to make the final decision on how you wish to fill your base, there are a few options for you to decide on: leave the panels unfilled and just install your shed onto the base, fill the entire base with decorative gravel to create a french drain system or you can fill with soil and seed to create a grassed base to blend in with the surrounding area – adequate growing time may be required for this fill.
You can be assured that regardless of the size, shape or purpose of your shed or garden building that our bases will be the perfect foundation and help prolong the life of your new shed. For more details on our bases, take a look at your required size base or you can contact us to speak with a member of our customer service team who can help with your enquiry.
Why Should I Use A Plastic Shed Base Kit?
Lightweight and Easy to Handle
There are many traditional methods of creating a base for your shed. Most commonly is the use of concrete slabs which can be an expensive and labour intensive method, as well as requiring great skill and care to create an effective, flat and solid base. Lifting and laying a concrete base for a shed is very heavy work, and over time the mortar and levelling materials used to create this base become powdery and often leads to problems with both the base and the shed.
Weatherproof and Durable
Other methods including using timber to create a frame, which when compared to laying a concrete slab base is much less physically demanding. This, however, does form a trade-off and will require a little more skill in creating a frame which is level and suitable. Another drawback of using a wooden shed frame is that even treated, tanalised timber quickly starts to absorb moisture and attract fungus. These factors lead to the natural wooden base starting to warp and rot and often leads to the wooden shell or floor of the shed also rotting or warping.
A Cheap Shed Foundation!
Our prices start from just £27 for a 6′ x 3′ base, which when compared with an equivalent in concrete slabs, is cheaper than the slabs themselves before factoring in other materials such as mortar, cement, sand or any tools you may need to complete the job. Why bother lifting and laying heavy, bulky slabs or having to pay an even bigger premium by hiring a handyman or landscaping professional to lay the base for you when you can buy one of our easy-to-install plastic bases.
Related blogs
We have published a number of blogs related to this category to help showcase how the product can be used.
8ft x 6ft Plastic Shed Base Installed Under...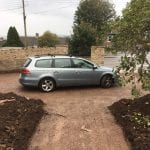 [siteorigin_widget class="SiteOrigin_Widget_Headline_Widget"][/siteorigin_widget] This case study comes from Fredrik who was looking...
read more ❯