A range of rubber grass mats that are suitable for use in gardens, landscaping projects, equestrian areas, under any childrens play areas and more
We have two grass protection mats available for purchase. There is the 23mm thick variation and the 16mm thick variation. Both are fantastic products that be used in a number of different ways thanks to their many benefits including being: strong, durable, weatherproof, permeable, non-slip and soft underfoot. Read on to discover more or view the products above.
How Can Rubber Mats Be Used?
Our grass mats are incredibly versatile products that can be used for a number of applications in different industries thanks to their grass protection, non-slip, soft flooring and safety benefits. Here just a few examples of how our grass matting has been used and continue to be used:
Equestrian
Our equestrian rubber grass mats are used regularly in and around horse paddocks, grazing areas and stables where a non-slip and grass protection flooring is needed for the horses that use that area. Under the weight of horses in colder and wetter weather, grassed areas can be heavily damaged and lead to a heavy, muddy area that is unsafe. Our rubber grass mats have can help to prevent this if installed correctly and in prior time. The mats are used to help equestrian areas be used almost all year.
Playgrounds
Our rubber mats are very regularly used under play areas in gardens and commercial areas. Thanks to the 23mm mats fantastic critical fall height of 3.3 metres and the 16mm mats critical fall height of 1 metre, they can be used for almost any play area as long as its size comes within the mats critical fall height. The strength, durability and soft nature of the mats gives you an effective safety flooring where any trips or falls occur, the chances of a serious injury are greatly reduced.
Home, Garden & Landscaping
A grass mats primary function is to protect the root of grass, they prevent your turf from being killed and the ground below from becoming a churned up muddy mess. Thanks to the open structure of the grass mats, the turf below is able to grow through the mat and keep the natural green appearance of the area. Once the grass has fully grown, it can be cut and cared for as you would a normally turf. To mow your lawn simply adjust your mowers blades to a higher setting.
Golf Courses
Golf courses use rubber mats all year round thanks to their grass protection qualities. The mats are used to create paths and walkways around their courses so the constant foot traffic and golf buggy wheels do not damage the grass they work so hard on maintaining. There is a big demand for mats in winter too as when the grass becomes soft, when walked or driven on it can lead to a muddy mess which is hard to repair during wetter months.
Events
Grass protection mats are also popular in the events industry where grass protection or non-slip flooring solution is required. The mats are simple to install and can then be removed then relocated which makes them so popular with events that are both in permanent locations or are touring. The rubber mats are able to protect the existing ground from heavy foot traffic whilst keeping an event visitors mud-free and safe on a non-slip surface.
How To Install Grass Mats
Our grass mats are a very simple product to install. Installations can involve using just the mats, cable ties and plastic fixing pegs. Here is a simple installation process where no ground levelling was required or a grass mesh was needed:
1. Measure and mark out the site where your grass mats are going to be installed. Cut short the existing grass and be sure to remove all debris and clippings that could get stuck under the mats.
2. Begin laying out the mats in the proposed area and if needed, cut the mats to fit around any play equipment or obstacles that may be in the installation area.
3. Proceed around the area from one side butting the grass matting against each other. Using cable ties, fasten all of the touching edges tightly together with 3 on the long side of the mat and 2 on the short sides of the mat. Trim the ends of the fixed cable ties off and ensure that the cut end of the ties are not creating a hazard by having a sharp edge poking up and being exposed above the surface of the rubber grass mats.
4. Finally, after fixing the cable ties to the edges of the grass mats, secure the mats into the ground by using plastic fixing pegs. Simply push or rubber mallet one peg in each corner and one in the middle of each mat(5 in total).
You can read our full Installation Guide to discover the process you should go through to install your grass mats if you have an uneven ground or a very muddy area.
Related blogs
We have published a number of blogs related to this category to help showcase how the product can be used.
Everything You Ever Need to Know About...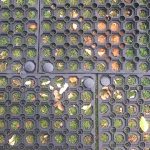 A blog teaching you everything you could ever need to know about Rubber Grass Mats from its many uses to how to install them
read more ❯