Showing all 2 results
Related Categories
All products
See Our Keter Shed Range
Browse our range of long-lasting, tough and attractive Keter Storage Sheds. These products are the perfect outdoor storage solution to keep your belongings safe and sound, which frees up space so you can enjoy the outdoors.
Built to Last
Crafted from durable composite plastic, our shed's require little or no maintenance and the wood effect walls are fade and peel free. Also, each plastic garden shed comes with a steel-reinforced frame meaning that your shed can last for many years. Our garden sheds come with double doors to allow for easy access to store items and they have a heavy-duty floor, so it can easily handle the storage of heavy equipment. Our plastic sheds have a robust roof design so that it can survive snow loads of up to several hundred kilograms per square metre. This innovative shed design ensures that it can survive all the elements.
Elegant Design
With a variety of designs, you can pick a style that suits your space best. Constructed from DUOTECH™, the walls of some products enable you to customize your shed by having the ability to paint the walls. This means you can get the look & finish you desire whilst still maintaining quality and reliability. Some sheds have premium features such a styled windows or skylights to allow plenty of natural light into your new outdoor storage space. Ventilation in some products comes as standard which is a great feature if you would like your plastic shed to keep cool.
Easy to Assemble
Keter sheds are easy to assemble thanks to their pre-cut tongue and groove panels. This combined with integral windows allows for a stress-free assembly.
If you would like to find out more about our range of Keter plastic sheds please do not hesitate to contact us.
Related blogs
We have published a number of blogs related to this category to help showcase how the product can be used.
Keter Oakland 11'x7.5' Plastic Shed -...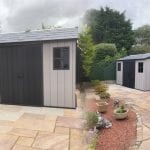 See how Brian, a past customer, ordered and installed a Keter 11'x7.5' Oakland Plastic Shed.
read more ❯