Our range of rubber bases for Inflatable Hot Tubs and Spas
Made from 100% recycled rubber, our rubber hot tub bases are the ideal foundation for your inflatable hot tubs from manufacturers such as a Lay-Z-Spa, M-Spa, Canadian Spa Company, Intex and many more.
Why Use An Inflatable Rubber Hot Tub Base?
We have a range of three different coloured recycled rubber hot tub bases that could be the perfect foundation for inflatable and blow up hot tubs that require a soft yet strong foundation. Due to being made of rubber, all of our tiles are soft so will not damage your inflatable hot tub in any way as may be the case with harder bases such as plastic or concrete. As well as looking after for your hot tub, our rubber tiles will also provide you with a non-slip surface that you can stand or walk on both before or after bathing that will not hurt your feet or lead to slipping.
We currently stock red, green and black rubber tiles. With each tile measuring 500x500x30mm, you can connect as many tiles as you want together to create a foundation of any size depending on your hot tubs dimensions and if you are wanting to create a path or walkway around your spa.
If you have any questions regarding our inflatable hot tub tiles or our other products then please do not hesitate to get in touch. You can leave us a message or live chat a member of our team to discuss your needs.
Related blogs
We have published a number of blogs related to this category to help showcase how the product can be used.
Rubber Hot Tub Base Tiles Under An...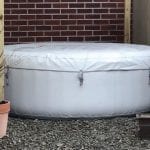 Installing a Lay-Z-Spa onto a solid and non-slip green inflatable hot tub tile base
read more ❯