Showing all 3 results
EcoLat is a strong, easy to install, decorative and fully recycled plastic edging product for use on a number of different projects
EcoLat is a decorative edging product used by both commercial and domestic customers who are looking to create decorative and defined edges between two landscaped areas. Available in slate grey or brown and in roll sizes of 25m, 10m and 2m long you can choose the right colour and length for your project. It is a strong and incredibly versatile product that can be used next to a large number of landscaped areas such as lawns, driveways, paths, flower beds, patios and so much more. Regardless of the shape of your project, our plastic lawn edging is the ideal edging as it can be installed as straight edges and contoured to fit circles and bends perfectly to prevent crumbly edges, gravel or other material migration and plants or grass from growing outside of its boundary. Each roll is manufactured from 100% post-consumer waste plastic so is also an environmentally friendly product that prevents waste plastic from being dumped in a landfill site or ending up in the ocean.
Browse our EcoLat range and if you have any questions or require assistance in deciding which plastic edging would be most suitable for your upcoming project then please do not hesitate to contact us, leave us a message or live chat to a member of our team.
Why Should I Choose To Use EcoLat?
Our decorative edging is an incredibly popular edging system with many customers using it for as many projects as they can. This is thanks to its many benefits that have been covered already but we shall look at now in far more detail. Below are just three it's main benefits which make it such a sought after product.
Appearance
One of the main selling points is its decorative appearance. This attractive edging is used by so many people to enhance the looks of their garden whilst providing the separation required. You can see how it compliments turf and other plants so well when installed against them. Available in brown and grey you can choose an edging to blend in or stand out slightly more and its slightly textured surface gives it the appearance of slate.
Effectiveness
Plastic edging is great at its job, creating solid borders that are long-lasting and attractive but do not take the attention away from the areas it is containing. Its durability and non-disruptive nature means you can work on and treat your garden exactly as you were before installing the edging. Each roll of EcoLat is strimmer, weather and UV resistant so can stand up to the UK's unpredictable weather with no problem.
Ease Of Installation
As well as the previously mentioned benefits, this edging is easy to install by simply digging a trench into the area, placing the edging vertically into the trench. Push or hammer in the EcoPic (fixing sold separately) at the side or behind the EcoLat at approximately 1m intervals and screw the edging to the EcoPic using a Chipboard screw. Once in the correct position simply back-fill the area to create the smooth surface against the edging and landscape the rest of the area accordingly.
Related blogs
We have published a number of blogs related to this category to help showcase how the product can be used.
Black and Green X-Grid® Used To Create A...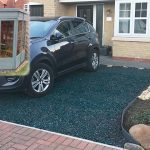 A dual case study from Richard who created a driveway and shed base using green X-Grid and black X-Grid
read more ❯
EcoLat Used In the Front Garden Customer...
A case study from Mike who transformed his front garden through the use of EcoLat edging board
read more ❯
EcoLat Lawn Edging Case Study
An amazing project and case study from Sue who utilised our EcoLat edging system in her garden transformation
read more ❯