Do you have a loose gravel pathway or decorative area which is constantly migrating outside of its area? You can prevent this with the use of our EasiHold pour on resin. In this blog we will let you know everything there is to know about EasiHold pour on resin, from what EasiHold is to how to correctly install it.
EasiHold is a next generation manufactured, UV-resistant, water based, non-toxic and non-harmful resin which transforms loose and crunchy stones into a clean and neat landscape surface.
The pour-on resin binder for stones creates a strong, solid and permeable surfaces which also prevent moss and algae growth. 
The most notable advantage to EasiHold is the ease of installation. With EasiHold no mixer is required, as it is simply spread over pre laid gravel. EasiHolds non-toxic and non-harmful water-based formulation means that EasiHold can be laid in areas that are accessible to pets and children with no worry about endangering them.
EasiHold is a versatile product but has two popular uses. One of the uses is creating a strong and compact gravel path or walkways. Apply EasiHold to gravel paths with stones which are 1mm-10mm in size to create a solid surface ideal for supporting pedestrian traffic. EasiHold can simply be poured over the top to provide an effective and stylish walkway.
The second most common use for EasiHold is to provide aesthetic purposes. Used on gravel sized from 1mm to 20mm EasiHold can be applied to areas that do not have heavy foot traffic, helping to provide a stunning feature to any project, without the worry of dislodging or moving any of the gravel.
EasiHold is recommended to be applied using a watering can. The pour-on resin is a low viscosity binder to ensure that the treated stones are fully encapsulated. Ensure that care is taken so you do not over-saturate the area. Confirm that the watering can or another application tool used will provide a good even dispersion of Easihold to prevent the over-saturation of the working surface, as this may slow the curing time of the binder.
In cases of extreme excessive saturation, the surface will become too 'wet' to dry out. Once applied, you may spread or smooth the treated stones in place using a suitable trowel, pin rake, squeegee or a spatula.
Please note that Easihold is an air-drying product and should only be left open when intended for application. During application the maximum temperature must be 40c and the minimum is 8c. Once applied EasiHold will take around 24 hours to dry in 15c.
Combining EasiHold with X-Grid
While gravel can be laid on to most existing surfaces like soil, using X-Grid with gravel provides extra security and strength to your specified area.
X-Grid is a recycled, UK designed and manufactured ground reinforcement grid which is able to withstand up to 420 tonnes per sqm, is easy to install and is fully SuDs compliant.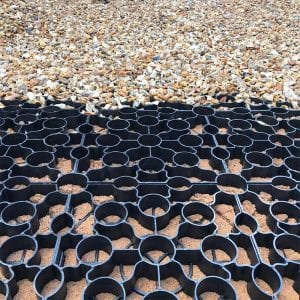 To use the two innovative products together, simply install X-Grid before filling with gravel and applying EasiHold pour on resin on top to create a solid and attractive surface which will carry the benefits of both X-Grid and pour on resin.
Frequently asked Questions
Q: Does this product need to be mixed with gravel?
A: No, EasiHold is poured directly onto existing gravel.
Q: Is this a DIY product?
A: Yes, EasiHold is a DIY product.
Q: Can cars drive on EasiHold applied gravel?
A: No, it is not recommended that EasiHold applied gravel is driven on.
Q: Where can I find the Safety Data Sheet for EasiHold?
A: The Safety Data Sheet can be found on the 'downloads' tab at the bottom of the product page.
Q: How much is delivery?
A: Delivery is £10 for any quantity of EasiHold ordered online.
Q: How quick is shipping?
A: We typically endeavor your product to be delivered within 3-5 working days but the expected delivery time of your purchase will be displayed clearly at checkout.
How Can I Buy EasiHold Pour-On Resin
Our EasiHold Resin is available to buy online from The Garden Range simply add the EasiHold, and any other products you may like to your basket, follow the intructions at check out, and simply wait for your EasiHold to be delivered.
If you have any more questions about EasiHold or any of our other products then you can speak to us via the live chat facility on our website, or you can leave us a message via the contact us page.
EasiHold Pour-on Gravel Resin