Garden playgrounds and climbing frames are becoming almost a natural feature in gardens. However, when creating these play areas, safety has to be the number one priority! This is where rubber grass mats become an essential flooring solution when creating your own. The 23mm grass mats have been tested by Rapra to 'BS EN 1177:1998' which certifies each one has a 3.3 meters critical fall height. You can be assured should anyone have a trip or a fall the grass mats will help lessen any impact. This is just one of the reasons why Carl and Ben decided to use our rubber grass mats when installing their own garden play areas for their children. Read on to see how they used our rubber grass mats and their thoughts!
Jump To:
Rubber Grass Mats
Rubber grass mats are one our most popular products, with a number of benefits and almost endless uses, it isn't surprising our multi-purpose flooring product is used so much. Manufactured from 100% recycled rubber, our grass protection mats are environmentally friendly and once installed allow grass to grow through the holes in each mat allow the area to maintain its natural appearance. Whilst used under and around play areas, rubber grass mats can also be used to create paths, walkways, entrance mats, in horse paddocks and more!
The rubber grass mats are easy to install too. Simply lay each rubber grass mat in place, tie neighbouring mats together using cable ties and secure into the ground using 5 plastic fixing pegs per mat. As you can see from the photo below, pretty much anyone can install them!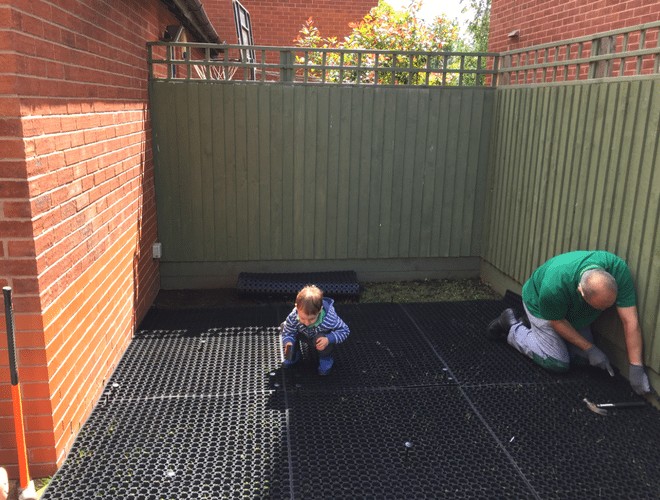 Project One – Climbing Frame and Swings
First is Ben who wanted a suitable flooring after buying his sons a climbing frame from Dunster House. After researching for a strong and protective playground flooring solution, he found our rubber grass mats which are ideal for playground flooring. He read up on the many benefits mentioned and ordered the same day!
Ben had planned the entire project out, under some large Conifer Trees in the garden, his grass had stopped growing properly so he decided there would be the ideal place to put the climbing frame. He filled the entire area with top soil before covering the with decorative pebbles. This gave a solid and permeable sub-base on to which he would lay the grass mats.
Ben then laid the rubber grass mats across the area and attached each one together using cable ties. As the mats were laid on pebbles and weighed down by the climbing frame they did not need to be secured into the ground.
Finally, Ben constructed the climbing frame with a slide, monkey bars and swings before standing it onto the mats. As you can see from the photos below, it looks great!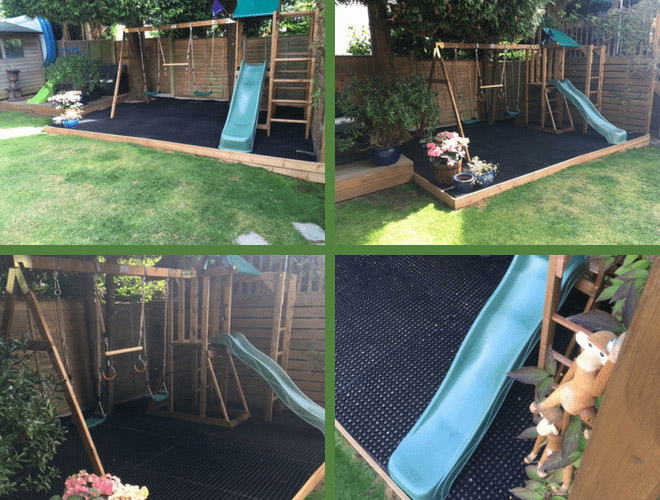 Project Two – Playhouse and Slide
Second is Carl, who just like Ben, was looking for a safe and soft flooring on to which he would stand an elevated playhouse and slide. He did consider a number of options such as leaving the grass area as it was or using a solid rubber flooring such as rubber play tiles. After much deliberation, he decided to use rubber grass mats as it would provide the better support as the play tiles but still allow natural growth and create a natural appearance once the grass has grown.
Carl began by removing paving stones which were installed on the right side of the area. He then proceeded to lay the mats next to each other to fill the area between the fence and house. Carl then tied each mat together using cable ties to ensure there would be no separation and prevent any chances of tripping. Next, he secured all of the mats using the plastic anchor pegs, again to ensure there would be no movement when walked on.
Finally, the playhouse and slide were constructed and installed onto the rubber grass mats and fastened into the ground using metal leg supports which you can see on the pictures. A great looking play area which is now safe should any small trips or falls occur.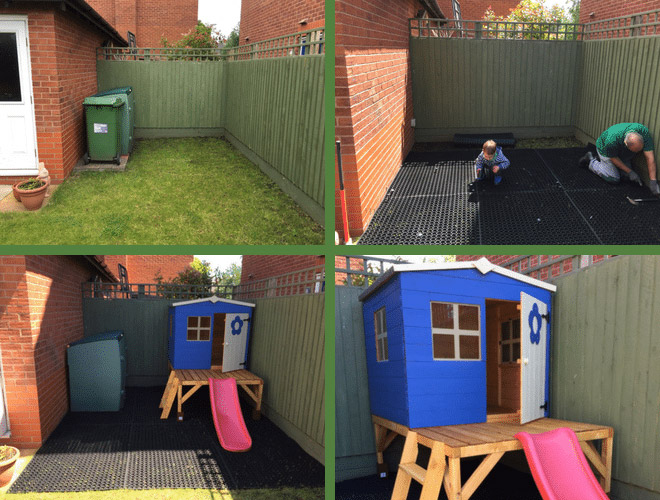 Conclusion
Both Ben and Carl are delighted with how their projects turned out. As you can see from the photos they both look fantastic. Now their children will have years of fun on their new climbing frame and playhouse with the added protection of the rubber grass mats as the flooring.
Carl sent us an email; "Please find attached photos of our recent rubber grass mats installation. Great product – thanks!"
Ben sent us the following email: "I created a raised border in the garden, filled the base with a top soil and topped with pebbles before laying out your rubber grass mats. On this rubber paved area sits a children's activity centre which I purchased for my 2 boys. The children's activity centre was purchased from Dunster House, its a good size and sits perfectly under the conifer trees."
We would like to say thank you to Carl and Ben for the images and information they sent into for us to create this case study. Should you have any questions regarding our products or any photos to share with us then please contact us.