The Perfect Greenhouse Foundations
Easy To Install - Fully Recycled - Weatherproof - Strong - Versatile - Cost Effective
When buying a greenhouse there are many designs, shapes and manufacturers and equally the same goes for the bases these outdoor buildings stand on. In this post, we are going to inform you about the amazing benefits that our Plastic Base has and compare it to other bases on the market such as wood or concrete. We will also include some customer reviews to demonstrate how sustainable and easy to install this product is. 
Greenhouses are a great addition to any budding gardeners outdoor space. They provide ideal protection for plants during winter and helps aid growth during summer. They help eliminate the aspect of pests and enable you to grow products that require a higher temperature to blossom.
Read on to find out more about greenhouses and why our Plastic Base is an ideal foundation.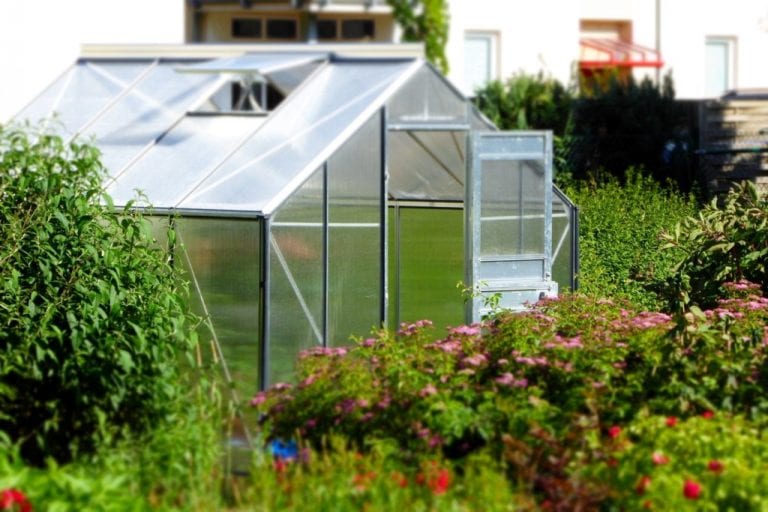 A greenhouse is an outdoor building typically consisting of a metal frame with transparent walls and doors such as glass or acrylic. Greenhouses can vary in size and design and its main purpose is to protect the contents within from unwanted pests and provide a warmer temperature compared to the outside environment, especially when exposed to sunlight. This allows the user to grow different variants of plants that sometimes require a hotter climate, something that the UK does not have.
Some of the benefits that greenhouses have to offer are:
Fresh food, plants, and greenery all year round,
No more battles with squirrels and insects
Ability to grow things you wouldn't otherwise be able to grow (exotic flowers, tropical fruit)
And More!
Greenhouses are available in all shapes and sizes and take forms that vary from the conservatory to an enclosed glass porch around the front door. All of which are very useful for the hobby gardener.
Wood, such as cedar and teak that are kept well-oiled is an ideal construction for a greenhouse but can be expensive. Ordinary softwood looks great but can have a very limited lifespan. Aluminium is the best answer as it does not rust but the bolts and screws that hold the structure together are often made of steel and liable to corrode. So, inspect any intended purchase of this kind very carefully, and select an all-aluminium model.
There are a variety of greenhouse manufacturers on the market. They all support different designs and types and have products to suit a variety of budgets.
Halls Greenhouses are one of the most competitively priced manufacturers on the market. Established in 1999 they ensure they have the knowledge and experience to create a high-quality product.
Simplicity by The Greenhouse People is another manufacturer on the market. They are for a medium-sized budget.
Where should I put my greenhouse?
The best place to put a greenhouse is where you are going to get a decent amount of sunlight. In most gardens the best place to put your green house is in the south side of your garden, as it will get the most sun year round. If that's not possible the next best place is on the east side. A somewhat enclosed area is ideal for the greenhouse to protect the greenhouse from wind and to make sure no lose shrapnel hits and damages the glass, but make sure it is also exposed to as much sunlight as possible.
Our large range of garden bases are suitable for almost any green house regardless of its size, make or model. Our interlocking plastic base panels are manufactured here in the UK from 100% recycled plastic. Thanks to its special design, each panel weighs only 0.57kg and has a simple slot and peg connection which makes installing our bases an incredibly simple process. Being easy to install does not mean our bases aren't strong either, all of our foundations are able to withstand up to 420 tonnes per square metre when unfilled.
The strength of the base comes from its unique structure which is open and allows the base to be permeable. The permeability lets any rain drain naturally away in to the ground below which would not be the case with traditional bases such as concrete or wood. Every base will provide a solid foundation for your green house for years to come and reduce your future base maintenance costs.
Benefits of a plastic base
Our greenhouse bases are effective foundations manufactured from 100% recycled plastic, they are all UV and weather resistant so will not rot away or break down over time which can be the case with more traditional surfaces.

Thanks to its intelligent open cell design, greenhouse bases are fully permeable and incredibly strong. So any rain that falls can drain away naturally reducing surface water build up or puddling and the chances of localised flooding or rotting occurring all whilst being able to hold up to 420 tonnes per square metre.
Installation of a plastic base
These 6 simple steps are all you need to install your brand new green house base, meaning you can have your green house up in no time!
Step 1.
Select an appropriate location for your garden base ensuring that the ground is level and even. If the ground is soft and/or uneven, remove the existing top layer and replace with 50-70mm depth of crushed hardcore, compact and level.
Step 2. 
Cover your marked out area with weed membrane and fix with steel uPins or plastic pegs in each corner and one in the centre. Trim the membrane to fit the area if necessary.
Step 3.
Starting in one corner of the area, lay the first garden base panel on the ground so that the edges with
slots are on the perimeter of the marked out area as shown in the diagram.
Step 4.
Working from left to right, lay the second panel by placing the slot over the peg. Repeat the laying process working from left to right creating as many rows as necessary ensuring the slots are laid over the pegs.
Step 5.
Once the green house area is complete, fill the panels with gravel. Each panel will take approximately 8kg of gravel to fill. Filling the panels will increase the strength & durability of the base.
Step 6.
Install your green house onto your newly created garden base.
We have a variety of positive customer experiences using our Plastic Bases. They often express the simplicity of the install and how great the final result looks.
Take a look at Rosie's experience when she installed an 8ft x 6ft Halls Popular Greenhouse onto our Plastic Base which made for a fantastic addition to her garden.
Take a look at Sheffield Greenman Gardening Services and their experience installing our Plastic Base. They ended up with a fantastic result they are pleased with and was easy to install and could start erecting the greenhouse in no time at all.
If you have a story to share about your Plastic Greenhouse Base or would like to enquire about our fantastic range of fully recycled plastic bases then please do not hesitate to contact us and we will be more than happy to help!
Need a Plastic greenhouse Base for your garden?