Jump To:
The Project
This case study comes from Chris who was looking to add a Storage Shed to his garden, but he was unsure as to where to place it and if he could find a suitable foundation that wouldn't break the bank or be to labour intensive!
Chris decided to research alternative options and came across our website, after reading up on our fully recycled bases and its many benefits he decided to order a 10ft x 8ft Plastic Shed Base and a sheet of Shed Base Membrane with Shed Base Membrane Staples the same day. His order was processed, packed and dispatched by our warehouse team the same day. Chris' order arrived with him 3 working days later in an easy to manage box to allow him to easily move and store it until the day of installation.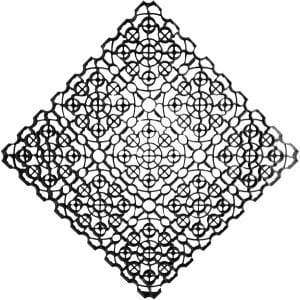 The Work
Once the day of installation did arrive, Chris unpacked his 80 Shed Base Panels, Membrane and Staples onto the garden and set to work.
He began by measuring and marking out the 10ft x 8ft area using string, he then dug out the area down to around 50mm to allow the base to sit flush against the existing turf. With the excavated turf disposed of responsibly, he laid the sheet of shed base membrane in the hole until the full area was covered and secured it into the ground using his shed base membrane staples. Membrane sheets are secured to ensure there will be no movement when walked on, while the base is installed or if the wind blows.
Next, with the membrane secured Chris could begin laying the base. He started in one corner laid one panel at a time and simply attached each panel together as he went along using our specially designed slot and peg system. He told us how simple the laying of the base was.
Finally, once the base was installed he filled the entire area with decorative gravel, around 8kg of gravel is needed to fill each individual panel. Then lastly installed his brand new wooden shed onto the now filled base!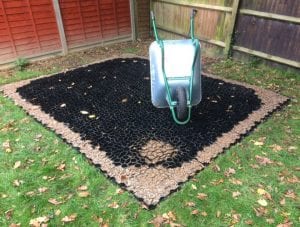 Conclusion
Chris was and still is incredibly happy with his new 10ft x 8ft Base and Wooden Shed! He now has a fantastic looking garden building to store his tools, bikes and even room for a workshop!
A huge thank you to Chris for using our product and for the photos and information he sent to us. Should you have images or information on your base installation or questions regarding our products then please do not hesitate to contact us.