As many of us will have discovered, front gardens can sometimes be a nightmare to keep in tip top condition. Mick was looking for a way to transform his front garden before the end of summer, he was needing a product that could separate gravel and soil so he could plant flowers and stand flower pots. Although they can be a lot of effort, when done right can look amazing and last with little or no up keep. Read on to see which product of ours Mick used to transform his front garden into a spring magazine front cover.
Jump To:
The Project
When beginning his project Mick had a gravel area that he wanted to improve by planting flowers and plants using plant pots and soil. So Mick began searching the internet for a garden edging product that he could use to separate his different gravels and soil in the front garden. However to do this he needed a product that would be strong enough to separate the sections and that could be manipulated and contoured to create the 'loops' he wanted. We suggested that Mick use our EcoLat Lawn Edging, this edging fit Mick's needs perfectly, being both strong and curved enough to help create the loops required and withstand any weight pushing against it. Mick ordered the recycled plastic edging the same day.
Arriving 3 working days later, Mick was able to begin his landscaping immediately. Read on to see exactly how Mick created his new front garden.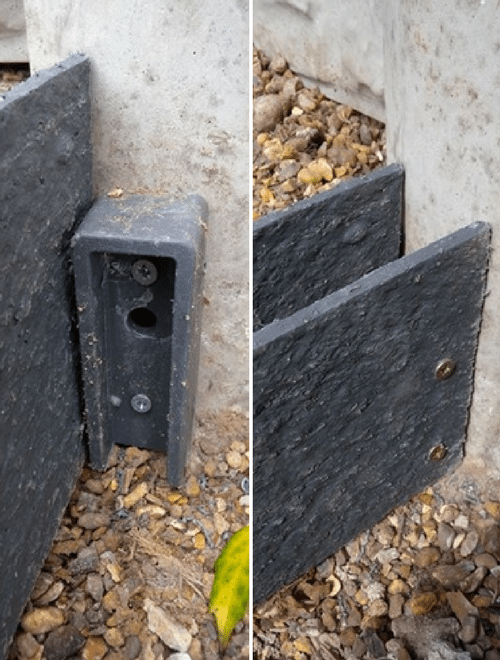 The Work
Mick began his work as many people do, by planning and outlining exactly where the EcoLat would be installed and what kind of gravel or soil would be in each section. From here Mick knew exactly where to start and what actions he would need to take to achieve his goals.
With the outlines now in the front garden, Mike began measuring and cutting the EcoLat to size to create each loop. With the loops created he began removing all of the existing stones to give him a blank canvas on which to work. He didn't throw the stones away as he would use some of them once the EcoLat was installed. Next he began installing the EcoPic Garden Stakes which are required to install the edging but are sold separately. As you can see from the photos, Mick nailed the EcoPics into existing structures and inserted the EcoLat edging into the stakes. He repeated this until all of the loops had been installed. From here he installed 3 different shades of gravel into the loops and the old gravel in the empty area on the left. The remaining area was filled with soil and appropriate plants and flowers were planted.
As you can see from the photos Mick's front garden is looking fantastic. It shows how using just one product to separate different gravels and soil has transformed the area.
Conclusion
Mike was very pleased with the EcoLat and how his project has turned out. We all agree that it looks fantastic!
"EcoLat has proved to be ideal for the project, easy to cut and shape and good depth giving us separation between each loop to retain the soil."
We would like to say a huge thank you to Mick for sending us the photos and information to be able to create this case study and show everyone how great his garden is now looking! Should you have any photos or information to share with us or any questions to share with us then please do contact us.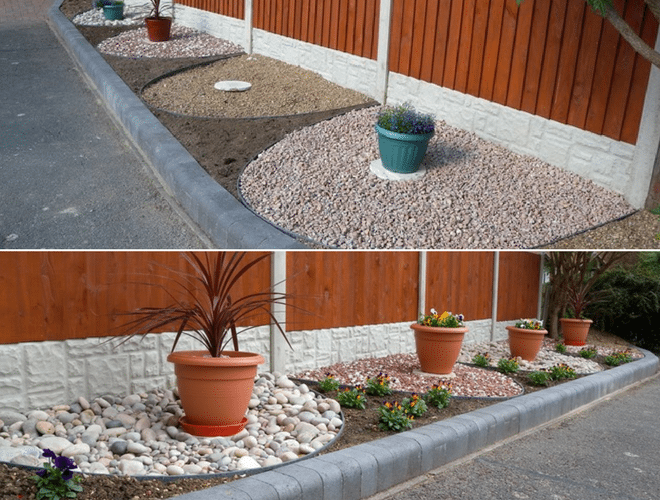 Decorative Recycled Plastic Edging