Structure and planning is incredibly important when starting any landscaping or DIY project, this is something that Sue in our case study found, she and her husband had a set plan for their garden project and as you will see in the blog it turned out fantastically well! Read on to see what sort of plan they came up with and how it helped them transform their garden whilst making the most of our products!
Jump To:
The Project
With Spring having just arrived Sue and her husband were looking to transform their garden. Transfigured from a typical lawn area with a few planted borders, into a landscaped and contemporary garden. As you can see from the first photo on the right they already had a vision in their heads of what the finished article would look like.
However to complete such projects the correct knowledge, work ethic and also products/materials are required, missing just one of these can hinder your chances of creating a masterpiece in your back garden. Luckily, Sue and her husband possess all of those and despite the constant lure of warmth and easter eggs tempting them back inside they did a fantastic job of their garden using our EcoLat Lawn Edging over the Easter Bank Holiday.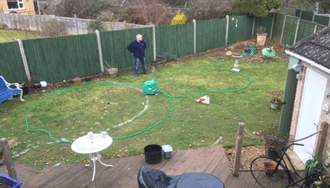 The Products
With so much work to get done the list of items needed was always going to be longer than the actual garden, so here is a shortened version of what Sue used to achieve her goals. Along with the regular tools found in most garden shed such as shovels, rakes, wheelbarrows and trowels they required materials which are available in most good builders merchants;
First is decorative stone, to fill the dug out path a strong but still attractive stone was needed, which is why they decided to go with quite a few bags of impressive Granite Chippings, a fair amount of bags were needed to fill the relevant areas that you can see in the photos.
Second are the plants, again available from all good hardware stores in their gardening section you can usually find potted plants, trees or flowers ready to be transferred straight from the pot to the soil in your garden.
Third again is stone, however this time it is gravel for the bottom right of the garden, leading from the decking to the storage shed. Again most gravel will do as long as it is not too small to be affected easily by weather or too large that it becomes difficult to walk on.
Fourth, and the gardens centre piece is the Sun Rock at the top of the path, created using a number of large triangle pieces this steals the limelight and really brings the garden together nicely. Due to being sold in manageable triangle pieces it also makes the installation incredibly easy for any buyers too, so not only does it look great but it takes no time at all to get right.
Fifth and finally, our star of the show is the EcoLat border. Made from 100% post consumer recycled plastic, not only is the EcoLat Lawn Edging eco-friendly but it is also incredibly strong to help define paths, grass and flower beds.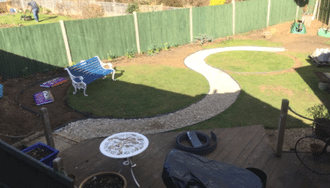 The Work 
When first starting off a landscaping or gardening job it may seem like a mountain of work you have to get over and in some cases the jobs do pile up, however using the right products can help you utilise your time effectively. There are a number of examples of this happening all throughout our blog posts and now is no different.
As you have seen from the pictures the first job was planning from Sue, having to decide what they wanted to do with their garden and testing it using some brief outlines on the current garden. These outlines became their boundaries, where the EcoLat edging would be placed. With the outlines in place they began to dig out the main path first, from one side of the garden to the other, around 20mm deep of soil was removed and disposed of. Once removed the EcoLat edging was put into the ground along the edge of the path and secured using the EcoPic Stakes which can be bought from us and easily knocked into the ground. Once in place the path was filled with white granite stones as you can see in the photos.
Next, a figure of 8 shape was completed in the grass by again removing soil and dirt from the garden, once the EcoLat was placed in the edge of this path it was instead filled with soil and used as a flower bed for a fantastic array of plants and flowers!
After the paths were completed it was time to put the centre piece in place, the stone Sun at the end of the path. Transporting the full circle in was not viable so it had to be brought in by a pallet of 'triangle pieces' and put together like a jigsaw puzzle! Although it may have taken a while to move through the garden and install it was more than worth as it looks absolutley fantastic.
Finally it was a case of finishing off the job! Using gravel to create a small path from the decking to the storage shed around the corner and then planting the previously bought plants, trees and flowers in the soil which had been segregated earlier thanks to the EcoLat.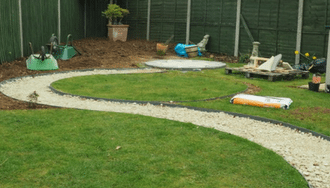 Conclusion
What an amazing garden! Sue was incredibly pleased with how the entire project turned out and said how easy the EcoLat was for them and their son to use and the roll turned out to be the perfect length too! They decided to use our EcoLat after researching online and found our product that had great reviews and also wouldn't need replacing after just a few years.
We would like to say a massive thank you to Sue and her husband for using our EcoLat product and for sending us the photos and information to create this case study showing off their beautiful garden.
If you have any questions regarding any of our products then do not hesitate to contact us.
Decorative Recycled Plastic Edging