When it comes to deciding on a greenhouse base there are multiple options available. Concrete, wood or our option; plastic grid which can withstand 420 tonnes of weight per square meter. Read our customer Mike Andrew's review of the base which was installed in Autumn 2016.
Jump To:
Background
My wife, encouraged by our daughter, has become very interested in flower arranging so I have now (nearly willingly) been guided towards taking part in cut flower gardening.
In order to get a good start each year and to 'buy in' a little support, my wife has allowed me to organise a greenhouse – something I have wanted to do for a long time. The suggestion is that now I am nearing retirement, the greenhouse and my woodworking workshop might keep me from under her feet.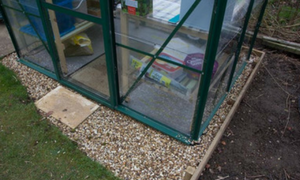 The Greenhouse
I did a fair amount of research on the web and found a greenhouse that seemed reasonable and at a good cost. I purchased a 6 x 4 with a green frame and toughened glass from Greenhouses Direct. They have been superb. I have contacted them both by phone and email and they certainly seem big enough to deal with any issues but still small enough to care and offer a good personal service.
The Greenhouse Base
The instructions that came with the greenhouse suggested quite heavy civil engineering for the base; the options being either a brick base which would require concrete footings or sleepers which are very heavy to lift and move.  Both options were nearly as expensive as the greenhouse itself and in both cases left me with a dirt floor – less than ideal.
Again, I searched the web and found the Shed Base Company with just the right solution and at a very sensible price.
The 6 x 4 greenhouse base was around £50 and came complete with a sheet of weed suppressant membrane and pegs to hold it down.  I felt that a 'holey' floor was not the best so decided to fill the greenhouse base grid with pea gravel.  This took only 2 or 3 20kg bags and the local Towcester Building Supplies has these at around £3.50 a bag.  Not only did the gravel fill the base grid it also helped to level everything up.
Prior to the gravel fill, I worked out where the greenhouse frame should fit and drove 4 tanalised wooden gravel board pegs into the ground through the appropriate greenhouse base cells.
Once this was all complete it was a simple matter to follow the erection instructions for the greenhouse and prior to glazing ensure everything was lined up, drill through the frame at the peg centres and screw the whole frame down.
I was fortunate in that the ground was clear and fairly level.  All I needed to do was tread it down to compact it and use a spade to shave any high spots and fill any low ones.  Once everything was levelled the Base was simple to lay and only took 25 minutes or so to complete – absolutely brilliant and much, much easier than the 'preferred' methods. All in all the whole project took around 4 hours to level and erect with the glazing taking another 1 and a half hours or so.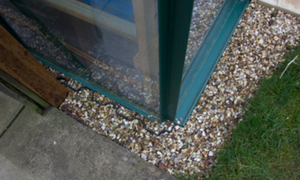 Outcome
This approach seems to be just as resilient as the recommended method. We live in a Northamptonshire village and the whole affair has withstood this winter's gales and very hard frosts.  The overall project cost were reasonable; the Greenhouse was £356.75 including delivery, the Base £50, gravel etc. less than £20 so the whole project was less than £450.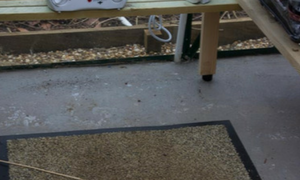 Afterthoughts
Once everything was established I wondered if I could screed the floor to make it a little more homely especially as I may end up exiled there.
Again I bought 2 or 3 bags of mortar mix from TBS at about £3.50 a bag mixed it to a soft creamy consistency and trowelled it over the gravel and Shed Base to a depth of about 1/2 inch.
I half expected it to break up badly but the thought was that if it did, the crumbled mix would fall into the gravel and still provide a reasonable floor. It took a couple of weeks to dry completely and I am glad I did the work before the frosts of winter. We have had several heavy ones this year and so far it has shown no sign of breaking up whatsoever.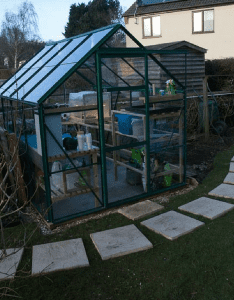 Conclusion
I am so pleased with the overall result that I intend (and have the Cut Flower Masters approval!) to double the length of the Greenhouse to a 6 x 8 in the early spring/summer once it is clear of plants.  I do not intend to alter the existing base so I will simply extend it with more panels using the same method.  It is likely to take a little longer overall than the original build as I will need to take all the glazing out although I don't think I will need to take the ends to pieces – just fit longer replacement sides. All being well I will let you know how I get on later in the year!