Installing an edging system may be one of the last things that people think of when it comes to taking on garden makeovers and improvements, however, the right division created between landscaped areas can add the perfect finishing touches to an area whilst helping to remove annoying occurrences such as material migration and crumbly edges.
This case study comes from a customer, Andy, who as part of his garden improvement removed his old edging and upgraded by installing RecoEdge, a luxury garden edging manufactured using entirely recycled waste material. Read on to learn more about the project:
Already in place was a traditional designed wooden edging system that in Andy's own words "Had seen better days". That edge was discoloured and had started to rot in some places, leading to its eventual replacement.
With the current wooden edge losing colour and rotting, Andy decided he wanted a solution that would not succumb to the same issues again. This is when he came across our website and our RecoEdge, the perfect solution to his landscaping needs.
RecoEdge is an edging system which is manufactured from entirely recycled post-consumer plastic waste to create an attractive, strong, durable and simple to install product.
 This unique edging product that carries a range of benefits that other edgings do not thanks to its unique material make-up. The manufacturing process also gives the edging a stunning slate-like appearance.
RecoEdge is installed with the use of RecoStakes which are manufactured using the same recycled materials to create strong, durable and easy to use fixing solutions.
The installation of RecoEdge is very straightforward when using RecoStakes, consisting of just a couple of steps and shouldn't be a long process at all.
First, simply dig a small trench the full length of the area where you are planning on installing the edging.
Second, lay the RecoEdge vertically into the trench and ensure the trench is deep enough to for your liking.
Next, with the edging sat in the trench, push or mallet a RecoStake directly behind the RecoEdge at approximate 1m intervals.
With the stakes in place, screw the edging to the stake using a chipboard screw or something similar and repeat until the RecoEdge is secured to every stake you have used.
Finally, with your edging now in place and secure, you can back-fill the area to create a smooth surface before landscaping however you wish.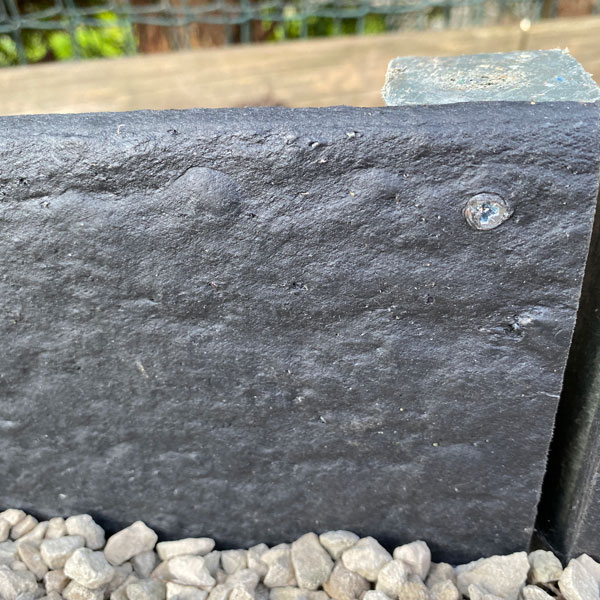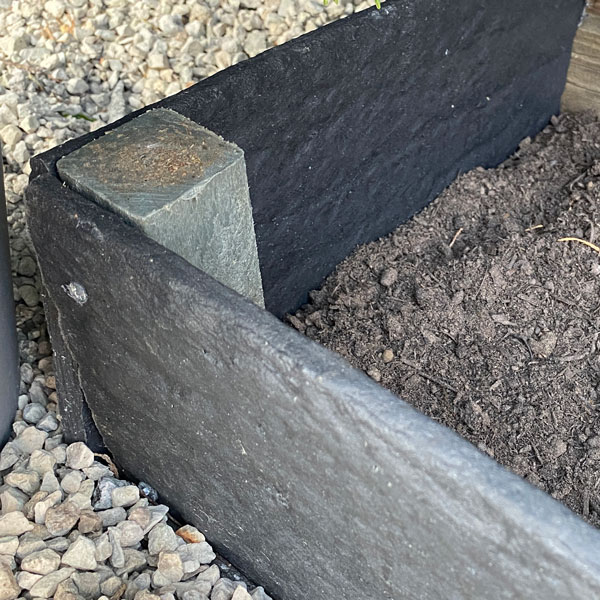 Andy followed the installation process above and completely transformed his garden with the addition of RecoEdge. You can see how the crisp division between the gravel and flower bed has given the area a new dimension that was previously missing.
Andy was incredibly pleased with the end result: "RecoEdge is a fantastic product, it looks the part and was also very simple to install using the RecoStakes. I chose the black edge to create a contrast against our current gravel and it has worked perfectly in place of the old wooden edging!"
Thank you to Andy for choosing to use our RecoEdge and for sharing photos of his wonderful installation. If you have questions regarding any of our products, please do not hesitate to contact us.
Recycled plastic garden edging
Recycled plastic garden edging