Whether you love or hate gardening, it's something we all have to do in our lives. It can be a daunting task laying a new path, de-weeding or edging the grass. However with the right tools and materials these jobs can be easier than ever. Take Dean as an example, his project which you can read about below could have been very difficult had he not chosen the right items for the job. Continue through this blog post to see which of our products can made Dean's garden chores even easier!
Jump To:
The Project
After having had a new garden shed and decking installed in opposite sides of his garden, Dean had encountered a small problem. How to get from one to the other without getting covered in mud? Since this winter was especially wet, there was a point where it was almost impossible to avoid being covered in mud getting across to the shed. Thus began the search for a suitable path across his garden from one new wooden structure to the other.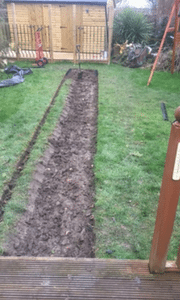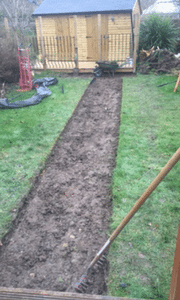 The Search to Delivery
Dean started off as all of us do when we have an idea, jump straight onto Google to find the best way to get the job done without breaking the bank or your back.
After a quick search there were a few options to consider; using paving stones as more of a stepping stone approach to get you over the mud, a more drastic measure of replacing the turf with artificial grass to rid of the mud, or using our GeoBorder lawn edging, by digging up the grass and mud then filling with gravel, creating a more permeable surface where no water will settle and where no mud can store and splash up your clean clothes.
As you can probably guess, Dean chose our GeoBorder lawn edging and plastic nails to create a defined path. All that was left to do was to order from our website, wait for the delivery and buy some gravel from his local hardware store.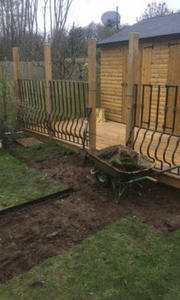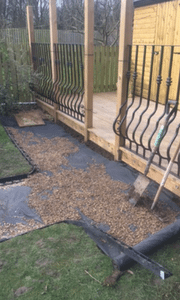 The Work 
The biggest issue for Dean was waiting for a dry day to get the majority of the project done, digging up the path was by far the largest part of the job due to the volume of soil which had to be removed from the garden and disposed of.
Once the outline of the path has been dug out and soil disposed of, a sheet of membrane is rolled out and applied to the area. The membrane is rolled out a small amount at a time and as it is rolled the GeoBorder lawn edging strips are installed, holding the sheet in place. Slowly working down the garden one edging piece at a time meant there would be no loose membrane.
Finally the bags of gravel are emptied into the path, with the edging ensuring no gravel can escape onto the grass and when stepped on the ground is solid and can't become unsteady underfoot.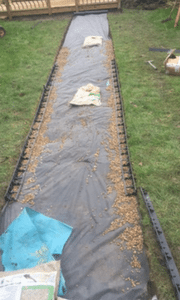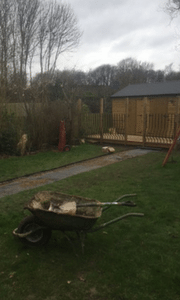 Conclusion
Dean is incredibly impressed with the result of his pathway project and how well the edging has performed. There has been no spillage or migration of the gravel, meaning no stones in the lawn mower and less path maintenance. In fact, it has performed so well Dean and his Father-in-Law will be ordering more edging from us in the near future.
"I'm very pleased with your product & I will be ordering more to finish my project"
We would like to say a big thank you to Dean for ordering from us and also providing us with the photos and information to write this blog. We can't wait to see what you do next!