In this blog we will be looking at the experience of Brian, a recent customer, who purchased the very popular Keter Oakland 11'x7.5′ plastic shed. Follow the process from purchasing of the shed all the way through to installing the shed. Read on to learn more:
Brian was shopping for and researching plastic sheds for his garden. Whilst looking he came across our website and our range of Keter sheds. After reading up on the many benefits of a Keter Oakland 11'x7.5′, Brian decided it was the shed for him and placed an order. 
After Brian had placed his order, he was kept up to date with every step taken during the waiting period between the ordering and delivery of his shed. Our dedicated customer service team ensure that no customer is ever left in the dark in regards to their order.
About the Keter Oakland 11'x7.5'
The Keter Oakland 11'x7.5′ is an outdoor plastic shed that will help to improve the aesthetic of any garden space. The plastic nature of the shed makes it very durable and weather resistant, while also making sure the shed looks great. 
The Oakland 11'x7.5′ provides ample storage space making it perfect for housing all of your garden machinery, tools and other essentials.
The Oakland 11×7.5 is extremely strong too, allowing it to support heavy items and a strong roof which can withstand snow loads of up to 100 kg/m². As well as this the shed is completely maintenance free so there is no need for you to stain or renovate the exterior of the shed, however the plastic walls are paintable if you did wish to change the exterior of your shed.
learn more about the Keter oakland 11'x7.5'
Click here to view The Plastic Shed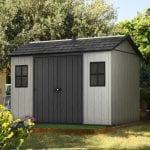 Keter Oakland Installation
Installing a Keter Oakland 11'x7.5′ is an straight forward process thanks to the simple assembly design and easy to follow instructional manual  The assembly requires very few tools to ensure additional support or equipment is not needed.
Brian was able to follow the Oakland 11'x7.5′ assembly guide and complete the install with one other person. The installation took them around 7 hours in all which is extremely fast for a large shed like the 11'x7.5′.
Overall, Brian was incredibly happy with the purchase process and installation of his Keter Oakland 11×7.5 plastic shed and would recommend it to others. After the installation has been completed, he had this to say:
"I'd like to thank 'The Garden Range' for keeping me up to date with order and delivery details even through the COVID 19 lockdown situation. The shed arrived in good time."
"The only issue I had there was no assembly instructions with it – which I was manufacturer issue but you assisted me in downloading the correct assembly instructions. With the instructions the shed assembly was quite straightforward. It took two of us around 7 hours with no problems."
"Many thanks for your assistance I'm delighted with the final product."
Purchase your own plastic keter shed
Click here to view our range