With our fully recycled plastic base being a foundation option for most garden building installations, we have decided to show you our top 10 garden buildings (in no particular order). You may decided that one of the following would look great in your garden and install it on top of our base! Having seen a lot of installations it was very hard to pick just ten but we have managed it.Our ten are as follows:
Elbec Garden Buildings - Elite Supreme Greenhouse
A large aluminium greenhouse from Elbec Garden Buildings with the minimum dimensions of 10ft x 10ft for the serious growers out there.
This greenhouse comes with a list of standard features that most greenhouses may not even offer as add ons: Integral aluminium gutter for additional strength, a large roof with side vents and 6′ wide extruded shelf. As well as offering a number of add ons such as 5 colour variants, changes to the doors, toughened glass and an aluminium base.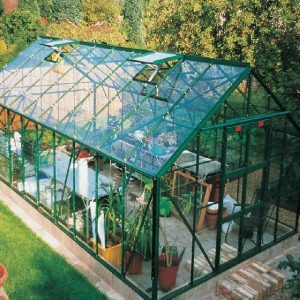 Garden Building Centre - Malvern Studio Pent
A stylish and modern garden building from Garden Buildings Centre. The studio pent allows a lot of natural light into the room through double glazed windows on either side of the double glazed windowed double doors which makes the room perfect for relaxing with friends and families or creating a spacious office in your garden.
The Studio Pent also offers the following as standard: Chrome Ironmongery (handles etc.(, a five level mortice lock, a 12 month guarantee and a choice between 12mm deal (pine), 12mm pressure treated deal (pine), cedar, 19mm deal (pine) or 19mm pressure treated deal (pine).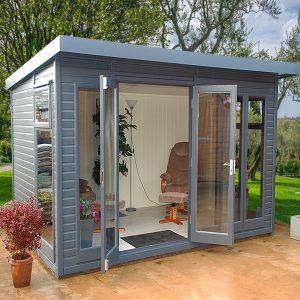 Waltons - Honeypot Playhouse With Loft
The Waltons 7ft x 5ft playhouse is an amazing play area that kids will love. With a downstairs area for activities or tables to be placed there is also an upstairs loft for relaxing! The playhouse also comes unpainted to allow you to be creative and design your garden building however you and your children want.
As well as being great fun, the playhouse is very safe. The playhouse has been tested by TUV to the EN71h which is the European safety standard for toys, comes with styrene glazed windows, better grip ladders so there is little chance of slipping and round edge framing to reduce the chance of splinters and increase its resistance to moisture.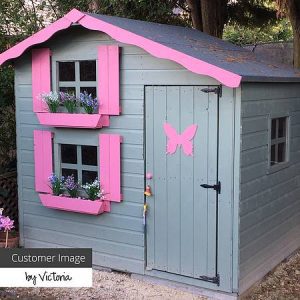 Simply Log Cabins - Mercia Log Cabin
The Mercia Cabin from Simply Log Cabins is a Summerhouse and Shed rolled into one. With a spacious open area and adjoined storage room on the side, this log cabin is everything you could need from a garden building. With a footprint of 11.5ft x 8ft there is plenty of room for sofas or tables and chairs to relax in and store your gardening tools or bikes just next door!
The Mercia comes standard with a heavy duty green felt roof, single glazed safety windows, a mortice lock and key and 10 year rot guaranteed FSC certified timber. Along with these, the log cabin comes with sturdy floor bearers which provide added support and protect the building from potential moisture.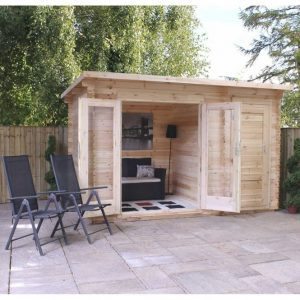 Dore Garden Offices - Hobbit Hole Playroom
Dore Garden Offices and their Hobbit Hole Playroom is no doubt a Lord of The Rings fan favourite. With a minimum dimension of 10ft x 10ft and tall enough for adults to fit inside, the Hobbit Hole is the ultimate playroom for old and young lord of the ring fans and is perfect for parties and sleepovers!
With plenty of inside space there can be tables, sofas, activities and even games consoles installed inside thanks to built in electric outlets. The hole also comes with a small upstairs area which is accessed by a ladder and can be used for sleeping or relaxing. The building is finished off with a Cedar Shingle roof and can be decorated however you please.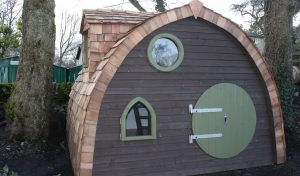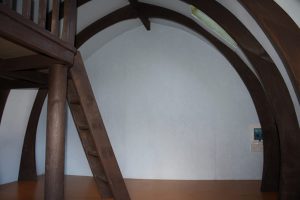 The Breezehouse Safari is specially designed with Alfresco dining in mind, the building has been designed to fit a 162cm or 152m round table with circular bench seating to utilise the available space. The safari is perfect for having breakfast in the garden, getting some early sun or entertaining a party of people and comes with a 30 year guarantee after being manufactured here in the UK.
You can upgrade the Safari with the addition of Infra-red heaters, different roofing finishes, curved bench seating covers and cushions and by raising the building further from the ground. A classy and stylish garden building that will be fantastic almost all year round for all occasions!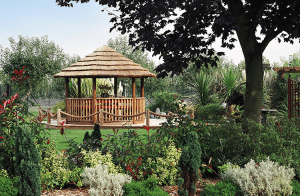 Crane Garden Buildings - The Blickling Shed With Log Storage
Crane Garden Buildings Blickling Shed is from their National Trust Range. All of the National Trust Sheds are hand made in their Norfolk HQ to ensure the construction is of the highest quality. The Blickling comes with an adjoining Log Store meaning there is no need for additional buildings to keep your logs. As well as this, the shed comes as standard in a choice of 6 colours, traditionally styled windows with tough glass, cast black iron door handle with mortice lock and key and is made with FSC® certified Scandinavian redwood.
The Blickling is available in a minimum size of 10ft x 6ft and is delivered and installed by a specialist team. With every sale of a Blickling or National Trust Shed, Crane donate to the National Trust to help them look after and conserve our national parks.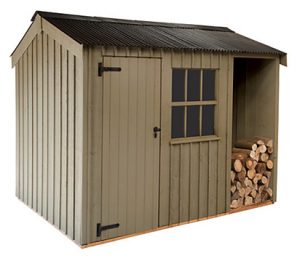 Swift Garden Rooms - Cinema Room
Swift Garden Rooms and their specialist Cinema Rooms provide you with a perfect getaway spot in your own home. With the correct specification you can have the sound and vision experiences of a high quality cinema within the privacy and comfort of your home. These rooms can be installed throughout the UK and the whole process is controlled by Swift to ensure the building matches the electronic installations.
Typically, all Cinema Rooms are designed with your entire family and friends in mind so everyone can enjoy the entertainment, are sound tested to ensure there is no external interference or sound seepage that may become an annoyance to neighbours. As well as this there can be a drink and food station, toilet facilities, integrated facilities for the installation of the audio-visual equipment and top security system.
Malvern Garden Buildings - Grill Cabin
Malvern Garden Buildings and their Grill Cabin a cosy 23ft x 23ft cabin with more than enough room for family and friends to be entertained all year round regardless of the weather. With benches inside that fit the shape of the cabin, you can easily sit up to 10 people around a fire and the chimney above the grill allows the smoke to safely escape.
All of the cabin walls are constructed from rounded spruce boards, ensuring thermal insulation and a pleasant indoor climate while the roof is covered in bitumen shingles (which are available in 4 colours). You can personalise your cabin by having it painted any colour you want and there are 4 opening, double glazed windows. The windows and doors are lockable to give extra security.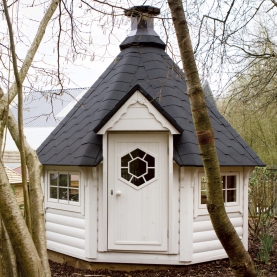 Last but by no means least, Extra Rooms and their Garden Gym that can be transformed into a play area or relaxation zone in no time at all thanks to the specialist design. The concept is called SlimGyms which are installed on a side wall and hidden by a blind. To use the gym equipment simply lift the blind and unfold the gym equipment which is stored in a very small space on the wall.
The buildings are installed by the Extra Rooms team and each installation is personalised to your needs to allow you to have an exercise area along with a relaxation section. The minimum dimension is 10ft x 7.5ft but can be increased to 10ft x 13ft.