Interlocking Shed Base System
The Shed Base Company's unique interlocking base system is the modern way to make a base for new garden shed, summer building, home office or playhouse. Far better than concrete, which is expensive and permanent, far better than paving slabs, which are hard to get level with each other, and far better than timber bearers, which can rot when in contact with wet ground. The Shed Base Company's interlocking shed base system is faster, better, easier to build and are recyclable and therefore a Greener option.
Quick & Easy Shed Base System
All you need is a level piece of ground, you order the correct number of tiles which are 330mm x 330mm each, and when they arrive you put down the damp-proof membrane, lock the base slabs together, utilising the fantastic interlocking system to make a superb solid base for your new garden building. With your new building on top of your new base you know that your new garden building is protected 100% against any damp as the plastic base will keep the base dry and well ventilated
Superbly Strong 100% Recycled Lightweight Eco-Friendly Durable Plastic
The Shed Base Company's interlocking base system is made from 100% recycled plastic so is an eco-friendly option. It is very light to handle and can be cut using a handsaw so you get the exact size if you wish. Even when cut the plastic grids, they keep their strength. The fact they are so lightweight means that anyone can build a strong, firm base instead of having to struggle with concrete or paving slabs. The other plus point is that if you decide you want to move your garden building, then you can re-use the plastic grids in a different position of the garden or even take them with you when you move.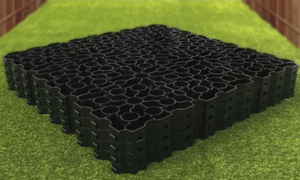 Instant Soak away for Greenhouses
By utilising the Shed Base Company's interlocking base system for your greenhouse, you can put gravel within the grids so instantly have a marvellous drainage system within your greenhouse. How easy and great is that?
The main qualities of the plastic shed base:-
    • Top Quality Recycled Plastic • Heavy Duty Lightweight Design Shed Bases • Gravel Not Required • Superb Airflow for your Garden Shed • These Shed Bases are Very Quick and Easy To Assemble • Very Light When Packed
The Shedbase Company offers:-
• Superb customer service • Very competitive prices • Fast delivery
So what are you waiting for, place an order today! Or give us a call 01246 589021 if you have questions or contact us if you want to write to us.