How to Choose the Right Garden Shed

It is so easily overlooked, but choosing the right shed can be a big decision especially since you'll have to live with it for many years to come. There are many factors that can influence your decision, you may just want something that will fit in with your style of garden or house. Above all, they have to be practical and fit for purpose.
Choosing the Sheds Size:
If you have space, we'd recommend you opt for a garden shed measuring at least 8ft x 6ft. If the shed is to go in a very small garden, make sure you know its precise dimensions.
Below we will discuss the advantages of choosing between wooden, plastic and metal sheds to help you decide which is best for you.
Consider the Robustness of Your Shed
Over time, a somewhat cheap shed is likely to develop a few issues like a drooping roof, distorted sides and a door that won't shut properly. However, this can often also be attributed to a poorly laid base for your shed, so make sure you have a strong base in place.
Wooden Sheds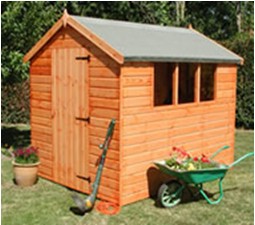 The natural timbers and pleasant amber tones make wooden sheds the standard 'go to' material. They easily blend into your garden and can be painted if you change the look of your garden.
If treated, a wooden shed can last for many years and remains strong and robust. Plus, the internal temperature is generally well regulated, even in the height of summer, and you don't get condensation issues associated with metal sheds.
One drawback of the traditional wooden shed is that they will need to be treated periodically, which is an easy and quite therapeutic activity. Also, by using different treatments and methods you can alter the look of your shed.
Plastic Sheds
image credit
A plastic shed is a great option if you want something that is going to be fairly easy to assemble, even in a restricted space. Unsurprisingly, a plastic one will never rot, rust or need annual treatments, all you may need to do is wipe down the sides from time-to-time.
These are generally durable and lightweight garden buildings; this means you can easily relocate but need to ensure they're not easily blown over in strong winds. Sunlight can make the plastic polymers brittle in time, but most of our range has been coated to prevent this from happening.
Metal Sheds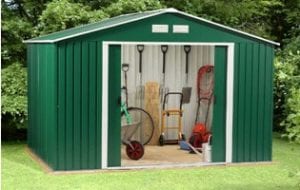 If you want a heavy-duty option, then you're best opting for a metal shed. Most metal ones have padlock holes or concealed points for padlocks, which ensure security. Since theft from the garden is on the rise, these sheds are ideal to protect valuable bikes or tools. In addition, metal sheds are effectively fire-retardant,
You will need to keep an eye out for excessive condensation build-ups as this can lead to premature corrosion. To avoid this, look for ones made from galvanised steel and some have also been resin coated to prevent premature rusting.
What base is best for my shed?
Whatever shed style or material you choose, your shed will only be as good as the base it is standing on. Traditional bases made from concrete or wood are becoming a thing of the past, with people having hard to access areas in the gardens and doing many projects themselves, and also concerns about the environment these materials are not many peoples first choice.
A new application has been found for a tried and tested product, made from 100% recycled UK plastic, a grid system is produced that is ideal for shed bases.
Easy to lay, easy to fit, easy to move, strong and durable, quick and affordable, it ticks all the boxes when deciding on what to stand your shed on.
A detailed article on why you should use a plastic base or download the Base Installation Guide.  Our Guide on how to Build a Plastic base explains how easy they are to assemble in more detail.
Need Help? Have Questions? Contact Us – Call 01246 589021