Traditional Methods Are Not Always the Best Methods – Try A Plastic Shed Base
Plastic Shed Bases are made from plastic which means they are stronger, more resilient, more dependable and are more cost-efficient. Plastic shed base panels are made from 100% recycled plastic. By using recycled plastic to create these awesome plastic shed bases you are helping to save the planet and protecting Mother Nature. Did you know that it can take up to 450 years for plastic to decompose in the already overflowing landfills? That is kind of scary.
Plastic shed bases are great for so many reasons. For one thing they are Eco-friendly which is tops to some. They will also save you money because they require very little maintenance. You cannot say that about the competitors out there. Metal bases tend to rust in the rain and snow. Concrete can become dry, brittle and eventually crack with the temperature changes. The plastic shed bases are dependable and rugged so they won't break down in the different temperatures and climate changes, as well as being UV and weather resilient.
Another neat titbit is that you can buy the plastic shed bases as individual panels or as a kit. The kit includes plastic shed base panels, ground cover membrane and fixing pegs. Not to mention the easy to follow instructions included with every product. Having a nice compacted level area is the first thing to starting any new shed base project.
The shed base kits come in a wide variety of shed sizes. The panel dimensions are 330 x 330 x 40 mm deep. If you choose to, you can purchase the shed base panels separately in case one of the kits doesn't meet your shed size needs.
You can make the shed whatever size you need or want it to be with the panels. You can even use a fine tooth saw to trim the shed base panels if you need to make the base a bit smaller in order to fit your space requirements. How awesome can you get? A base that you can customize to meet your needs, that is also sturdy, rugged, dependable, long-lasting and is Eco friendly. Plus, the shed base plastic panels are 100% recycled plastic, can't get much better than that.
Plastic shed bases are easy to install. The interlocking system makes the panels quick and easy to put together. Simply place the edge of one panel over the edge of another panel and click. The panels snap right into place. It is quick and easy so it saves not only time but also money and the planet. These plastic shed bases are looking better and better for your shed project.
Each of the panels used in the shed base plastic sheds can withstand 320 tonnes of compression. Now you know that even the heaviest of vehicles won't make a major impact on the ground below. Every one of the panels used in the shed base plastic sheds are sturdy, dependable and ready for anything.
No matter what your shed size is the shed base plastic sheds are the perfect choice. There are so many awesome features with these plastic shed base panels. Eco-friendly, sturdy, UV and weather resilient and the list goes on.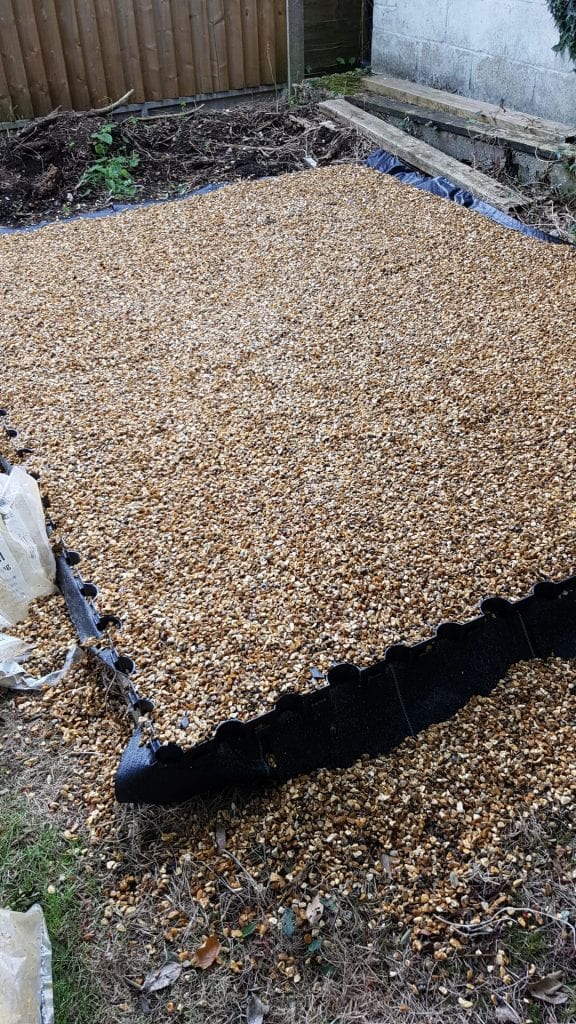 If you don't know how to prepare for the plastic shed base, here are some guides:
A detailed article on why you should use a plastic shed base or download the Shed Base Installation Guide.  Our Guide on how to Build a Plastic Shed base explains how easy they are to assemble in more detail.
Need Help? Have Questions? Contact Us – Call 01246 589021