When it comes to having a pet, sorting their living arrangements and managing them can be just as important as ensuring they have enough exercise and are eating correctly. In this case study, Karin was looking for a suitable base for her rabbit's new living and exercise quarters. After buying a large shed-like kennel she needed a suitable base to protect the shed from rotting whilst being strong enough to support the kennel fully. She also planned to use the base to create a small walkway around the entire structure so it could be accessed from any side and she could keep an eye on the rabbits whilst not in the kennel. Read on to find out exactly what Karin decided on and what she thought of her decision.
Jump To:
The Project
Karin got in touch with us around few months ago after ordering a new large Rabbit Kennel (which looks like a shed) and separate Rabbit Run which she was going to connect via a tube. She was needed a suitable base to ensure the kennel and run lasted as long as possible in the very unpredictable British weather. The base must also allow for any water or liquid to drain away from the run and still allow grass to naturally grow for the Rabbits to enjoy.  After a quick search on the internet and finding our website Karin knew what base she needed for her new purchase. On the same day, she found us Karin ordered 66 Plastic Shed Base Panels, a Shed Base Membrane and some Shed Base Membrane Staples.
Read on to find out how Karin installed her base, kennel and run.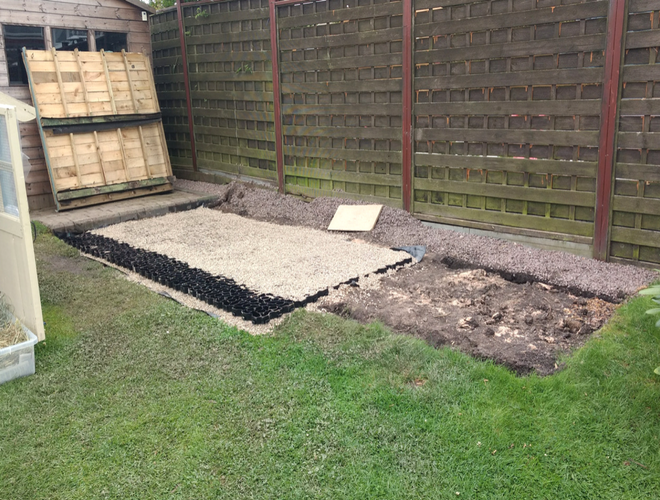 The Work
Karin received her base 3 working days later in one easy to manage box, which was packed by our great warehouse team. She was able to move and store the box in a convenient place until the day of installation arrived.
When Karin was ready to begin installation she began by simply measuring and outlining where the base and kennel would sit in the garden. She outlined this using a piece of string to create a rough guideline for her to begin digging. She dug out the existing turf and soil within the marked area and disposed of it. This left her with a hole where the base needed to be installed.
She began the base installation by laying a sheet of shed base membrane across the entire area, membrane is used to allow water to drain away naturally whilst creating a barrier and preventing any weeds or plants from growing up and through the base. The membrane is secured into the ground using membrane staples which simply stop the sheet from moving in the wind or when stepped on. Next, on top of the membrane the base panels were installed one by one. Starting in one corner Karin installed the bases by simply laying them and attaching the surrounding panels using the slot and peg system. She continued laying the panels until the entire area was filled apart from the rectangle where the run was to be installed (so the rabbits have grass to play on and graze in) which you can see in the photos.
With the base now in position Karin began filling the panels, she used decorative gravel to create a compact base. Around 8kg of gravel is needed to fill each shed base panel.
Finally, with the base now fully prepared Karin could install her rabbit kennel and run. She connected the two using a tube to create a bridge between the two. As you can see from the photos, it looks fantastic!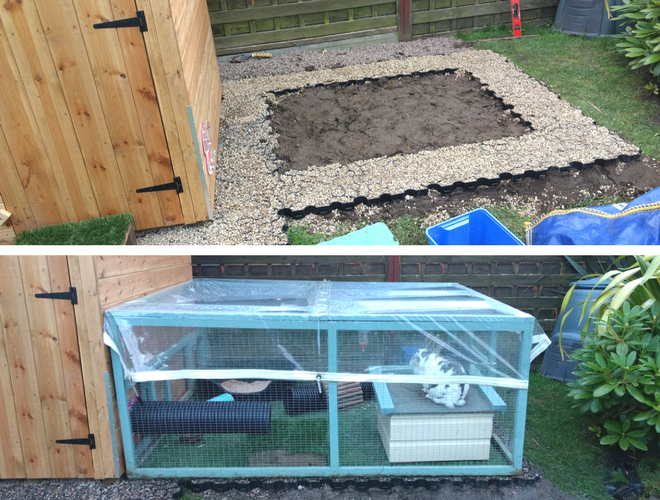 Conclusion
Karin was incredibly pleased with how the project turned out. Not only has she given her pet rabbits a new home and play area but transformed that part of her garden with a gravel path around the kennel. We all think Karin has done an excellent job and that her rabbits will be very happy with their new house!
"So happy with my Plastic Shed Base. Thank you so much!"
(\__/)
(='.'=)
(")_(")
We would like to say a huge thank you to Karin for the photos and information she sent us to create this case study. If you have information or images to share with us or any questions regarding our products then please contact us.