Outdoor Office Ideas
With more of us now working from home, it's becoming increasingly important to add a smart, efficient workspace to our properties. No longer is it sufficient to use a corner of the living room. Anyone who works at a professional level needs a dedicated office. And if there isn't a suitable room within the home, then why not create one outside?
A growing number of companies are offering pre-made wooden buildings to meet this need. These are a far cry from the old garden shed. Some chic designs are available off-the-peg; others are bespoke studios with add-on extras like special storage facilities, kitchens, showers and cloakrooms. There is no need to have a boring outdoor living space in 2016.
Buildings are designed for all-year-round use, being well-insulated (double-glazed, often with under-floor heating) and soundly made (generally from sustainable materials). Some even have a sedum roof, planted with succulents and herbs, to blend in with the surroundings. Utilities are supplied by pipes and cables under the lawn.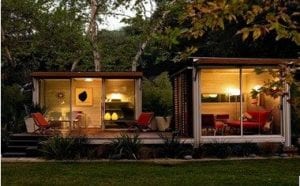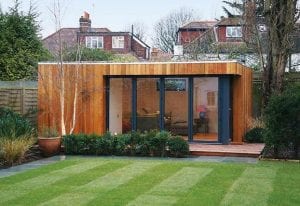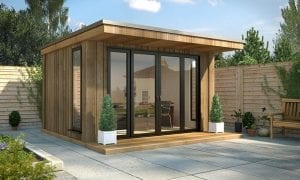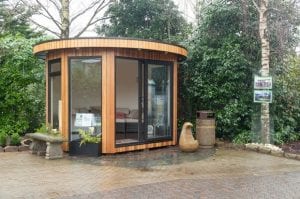 Outdoor Office Planning Permission
Changes made to the planning rules last year mean it's now much easier to install garden offices without applying for planning permission, since they can be constructed under a property's permitted development rights. While the initial outlay isn't cheap, a garden office is comparatively less expensive than building a house extension, and a smart, well-finished workspace is likely to add to a property's value as the growing trend for home-working rises.
Partnering with The Right Company
The Shed Base Company's, recycled plastic interlocking grid system is a perfect partner to your new home office/outdoor room. Its innovative design means it's an easier, cheaper and better solution for the foundation of your new garden building.
It offers a strong, sturdy base (1sqm is strength tested to 350tons) yet light and easy to install. Made from 100% recycled UK plastic it ticks the right environmentally friendly boxes while not sacrificing strength, style and practicality. Grids can be bought individually to create any size base you require.
A detailed article on why you should use a plastic shed base or download the Shed Base Installation Guide.  Our Guide on how to Build a Plastic Shed base explains how easy they are to assemble in more detail.
Need Help? Have Questions? Contact Us – Call 01246 589021