Gone are the days when a garden was nothing more than a patch of grass and a few floral borders where you could lay out the towel to relax on a warm summer's day, because nowadays there's so much more to an outside space.
A huge influencer of the transformation generation has most definitely been George Clarke and his Amazing Spaces TV series dedicated to the renovation of tired, seemingly unusable spaces. Our particular favourite episode is most definitely the transformation of George's very own garden from what was a previously fatigued area, to an ultra-modern cinema, playroom and butterfly garden that can be enjoyed by the whole family – which can be seen in series three, episode seven.
With a few months of summer still left it's not too late to think about changing up your garden and creating a space that can not only be used, but also be loved by you, your friends and your family. Below we take a look at some of the easiest and most budget-friendly ways to renovate a space, no matter how big or small.
Built-in Garden Furniture
"If you build it, they will come" has never been more appropriate than when it comes to garden furniture. By integrating seating and dining areas into the natural landscape of your garden, visitors and family alike will be drawn to the cool and innovative space to sit, eat or play.
Built-in furniture is a great way to make use of space that would otherwise be redundant. A built-in wooden bench fitted snugly into a tight spot for example will be completely bespoke, built to fit a space unique to your garden. Be aware though, with any wooden furniture intended to sit flat on the floor a sturdy base will be required to allow air flow and to prevent rotting.
Combine this with a chic garden table and you've created the perfect outdoor dining spot for enjoying the summer with your friends and family.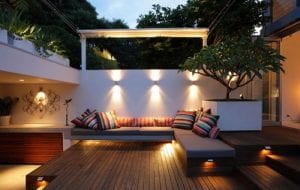 Hidden Garden Storage Solutions
Hidden storage areas are a great way to maximise minimal outdoor space. Decorating an outdoor space with accessories that have previously only been typical of a living room (cushions, throws, candles etc.) has now become the norm but with the unpredictable British weather it's definitely not practical to leave them as permanent fixtures.
When you're not using them, having space to hide these outdoor goodies is really useful but don't worry, that doesn't mean you need to have a shed that's packed to the rafters. Consider extra uses for the spaces you've already got. For example, if you have a built-in wooden bench, design it with a flip lid so that it can also be used for storage.
Equally, if you have a stepped decking area, consider "step lids" so that each individual step essentially acts as a small storage box – honestly, the possibilities are endless!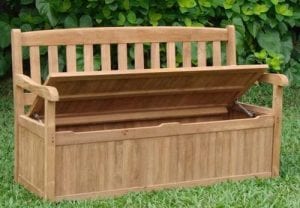 Do Double-Duty
Double-duty furniture is a lifesaver for anyone battling with a small space (this applies both indoor and outdoor).
As highlighted above, benches are great pieces of dual-purpose furniture, being just as good for storing as they are for sitting. Thankfully though, benches aren't your only option, consider a coffee table that could work as extra seating, or even something like this cool beverage table which, in addition to its regular table function, keeps your drinks cool too!
Opt for stools instead of chairs and they can be used as small side tables when not in use or, if you don't fancy having lots of furniture about, choose some weatherproof throw pillows which will work great for some unconventional and bohemian style seating.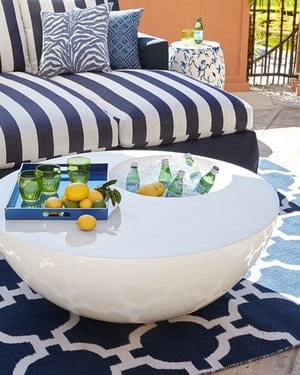 Sheds/Garden Rooms
Just like the garage, recently the humble garden shed has had an image overhaul and people have fallen in love with them all over again. A shed is the perfect way to extend your living space to the outdoors while still maintaining protection from the elements, meaning it can be used all year round.
Whether you create a garden office, your own quaint watering hole or a cosy den for enjoying the outdoors when the weather is less than perfect it's much easier than you might think as these Shed of the Year pictures prove.
As mentioned earlier with regards to wooden benches, it's really important to remember that if you intend for your shed or summerhouse to last for a considerable period you must protect it from the ground up and this means starting with a strong and durable shed base.
Our plastic shed bases are one of the most environmentally friendly solutions around, but, more to the point, they'll ensure your shed lasts much longer than any traditional base. Thanks to their cellular design, these shed base panels maintain the airflow beneath the shed preventing the build-up of water which can cause rotting, for more information click here.

Container Garden 
If you're working with a micro garden then containers are a great way to add some personality and inspiration from all over the world. Consider creating a "Desert in a Dish", or even a tropical oasis in a light shade – anything's possible.
Many plants, flowers and vegetables thrive in small spaces making them perfect for container gardens or balconies and you can really let your personality run wild to create a tranquil oasis in honour of your favourite worldly destinations.
Regardless of what you would like to plant whether it be vegetables, trees, herbs or flowers your small garden space can be vibrant as well as functional. Container gardens can be a great way to involve children in gardening and help them to learn about the environment, biology and healthy eating.
You can become super-creative with container gardens with many different shapes and sizes of containers available. Be as bold as you like and really get the neighbours talking about your crazy new, innovative tubs and planters!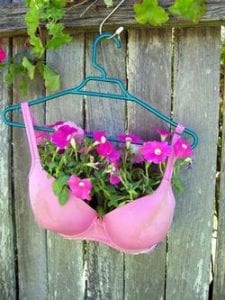 Focal Point
When it comes to creating a focal point it's really important to understand that less is most definitely more. Whether it's decking, a flowerbed, water feature or maybe a path to a paved barbecue area or fire pit, it's important to remember that the idea of said focal point is to draw the eye to focus on that one area, essentially zoning out the rest of the space available.
Whether it's a water feature, a beautifully appointed rockery, a magnificent shed or outdoor building, or an amazingly vibrant or fantastically unusual plant, having a focal point can work for you in one of two ways. It can either be a distraction away from other areas of your garden which may not be as well developed, or can be used as a starting point to base your garden theme.
If you've got a large garden that's too big to tackle in one go but you still want to be able to enjoy the summer with friends and family, this is a great place to start because everyone will be focusing on one feature as opposed to how much work you have to do in the months to come.
Go Faux

 
Artificial Grass: Some people have some pretty strong opinions ongoing faux for grass and plants but for a working singleton, couple or family who want to enjoy their garden without the seemingly endless hard work which typically comes with it, it's the perfect compromise.
As long as it's done right, no one has to know that your grass is artificial. To create a realistic look make sure you are covering an entire area, avoiding small spaces and also avoid harsh edges (you might like it but the edges of a real lawn are rarely pristine).
Artificial grass is a great low-maintenance alternative to real turf. It's safe for both children and pets to use, with no nasty chemicals in the grass itself. Handy if you find your toddler and puppy side-by-side munching on your lovely faux grass surface!
Of course, it's usable all year round, no matter whether it's a gloriously sunny September or a wet and miserable June, you can hold your barbecue rest assured there's going to be no mud trampled through your home.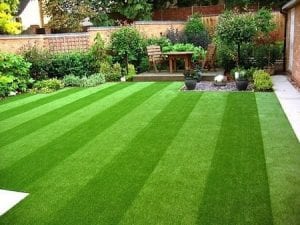 Gravel
If faux grass isn't your thing but a real lawn is either not practical or just not manageable anymore, why not opt for something completely different but equally decorative?
Gravel comes in all different colours, shapes and sizes and can be mixed together to create unique and high-impact blends which can add a bit of personality to your gravelled areas. This can also be helpful if you have colour tones that you need to carry on to other areas of your garden, effectively "tying in" colours and themes.
Gravel can be a great alternate preference for those who want a low maintenance garden while also enjoying an aesthetically pleasing result. Decorative gravel gardens can especially help in areas which are prone to surface flooding as they allow the water to soak into the ground below without the upper surface becoming saturated and boggy.
What's more, with these amazing grass pavers, you'll avoid gravel migration too so you won't find it all over your path or patio areas – genius!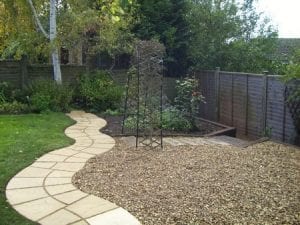 Furnishings 
Finally, it's not just about the furniture but also the furnishings. You might think that accessories should be kept to a minimum outside because well… it's the great British outdoors after all. However, it's actually quite the opposite; rugs, pillows, beanbags, candles and all things decorative are a great way to define as well as introduce contrast and pizzazz to an area that is usually dominated entirely by tones of green.
Rugs are especially great at defining the perimeter of an area as well as creating the illusion of much more room than you actually have – especially useful if you only have a small footprint to work with.
When choosing furnishings, be sure to choose those which are intended for outside use. They may cost a little more than an indoor accessory but in the event of an unexpected (but usually inevitable) shower, you'll be glad of paying the extra as they're often resistant to water or dry super-fast!