When splashing out on something like a Hot Tub there is always a worry that it may not be worth the investment, which is why we have created our fully recycled plastic base which will help protect your purchase. Available in a number of different sizes and compatible with all types of hot tubs you can rest assured knowing your new spa is in more than safe hands. We pride ourselves on the fact that our bases are eco-friendly, incredibly strong and permeable. In this case study a customer is looking for the qualities listed, read on to find out what product they decided on and how it performed.
Jump To:
The Project
David got in touch with us a few weeks ago after purchasing himself and his family a brand new Newport II Hot Tub from Blue Whale Spa's which would be proudly stood in their garden. However, he needed a base that would be strong enough to hold the filled tub, allow any spilled water to drain away and be quick & simple to install. After researching possible bases on Google David found our website, he had so far seen Concrete, Decking and other types of bases which he didn't want for a number of reasons. He browsed our website for a while and after reading up on the benefits of our product he ordered a 7ft x 7ft Hot Tub Base the same day.
They arrived 3 working days later in easy to manage boxes for David to store until he was ready to install his base.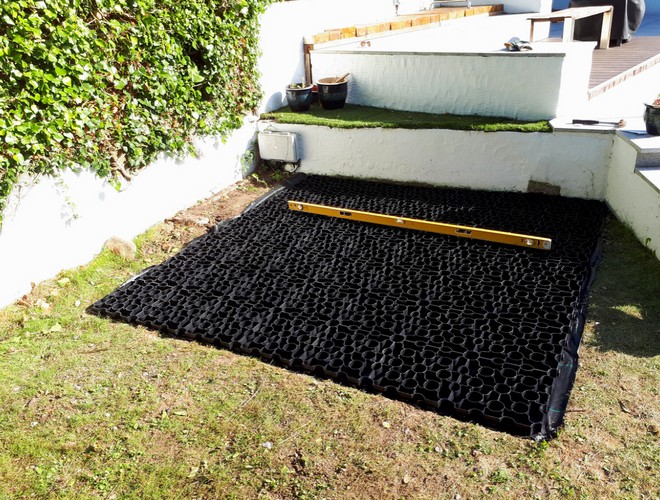 The Work
David began his work by measuring out and outlining exactly where the base and hot tub would be installed. With the area now outlined David knew exactly where he needed the soil removing from and where the base would be sitting. Planning ahead is a vital part of any job or project as without it you may forget an important tool or product.
To start his project off, David began digging down within the outlined area and removing the existing turf and soil to a depth of around 40mm. This creates a small crater/hole where the base will sit comfortably. However, before the base would be installed David laid a sheet of Hot Tub Membrane. Membrane is used in most projects to allow any water or liquid to drain away naturally whilst at the same time blocking any unwanted weeds or plants from growing up and through the base. The sheet is secured into the ground using Hot Tub Membrane Staples to stop the membrane from moving when stepped on, being blown away by the wind or sliding when the base is laid on top.
With the membrane now secured it was time to install the Hot Tub Base Panels. Our panels are light and easy to use. David told us how easy our base was to use. He started in one corner and laid the panels one at once connecting them as he went along using the specially designed simple slot and peg system. He continued to do this until the entire area was covered and all of the panels were connected and secured. Finally, with the base now installed, David began to fill the full area with decorative gravel, we recommend that around 8kg of gravel is needed to fill each panel. Even when unfilled our bases can hold up to 420 tonnes per sqm!
Conclusion
David is incredibly pleased with how his project turned out. He and his family now have a brand new hot tub in their garden and a fantastic base which will only help in keeping the spa in great condition. He told us how easy our base is to use and how strong the base is when filled and unfilled.
"Thank you for an excellent product. Easy to assemble, easy to dig to required depth. Very strong and stable once filled with chippings. I reckon you could park a tank on it without any problems."
We would like to say a huge thank you to David and his family for sharing their photos and information with us to allow us to create this fantastic case study. Should you have information or photos to share with us or any questions regarding our bases and products then please do contact us.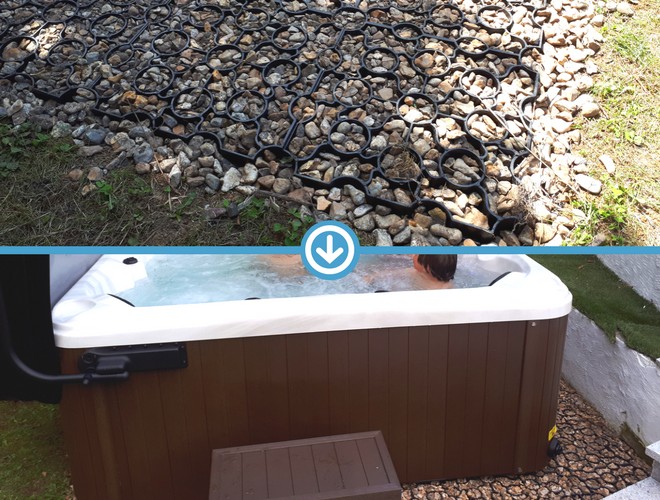 100% Recycled Plastic Hot Tub Foundations