With the ever rising popularity of inflatable hot tubs  from companies such as Lay-Z-Spa, Intex, Mspa and the Canadian Spa Company, we have invested in a base that is strong, non-slip and easy to install for the air filled spas. Our Inflatable Hot Tub Base Tiles are available in 3 colours (Black, Red & Green) and are sold in packs of 4. Read on to see which tile the customer in this case study chose.
Jump To:
The Project
This case study comes from Simon who had recently purchased a Lay-Z-Spa hot tub and was looking to install a suitable foundation at the start of his garden on which he could stand the hot tub when in use. Simon worked out he would require enough materials to cover around a 6m² area.
Simon began searching the internet for a suitable flooring which is when he came across our website and our rubber hot tub base tiles. he read up on the benefits of the tiles: Strong, Non-Slip, Easy to Install and Fully Recycled and was so impress that he ordered 25 Black Inflatable Hot Tub Base Tiles the same day he found our website. Simon received his base just a few working days later in a well-packaged and easy-to-handle box which he could store until the day of installation.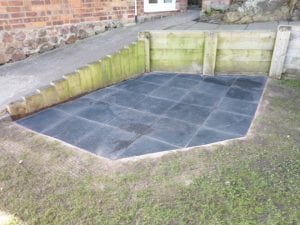 The Work
Once the day of installation arrived, Simon unpacked his rubber tiles on to the garden, brought out his bag of sand, his shovel and began working.
He started by digging down and removing the existing turf and soil until he hit firm ground (with the site being on the side of the Malvern Hills, there is a layer of stone and rock not far below the surface). From here Simon began laying stone and general ballast to replace the soil and provide a level sub-base. On top of this Simon laid approx. 50mm of sharp sand and compacted it all down.
With the sub-base complete, Simon began laying his tiles, as you can see from the above photo he cut down a number of tiles to fit the shape he required. He told us that the tiles were very easy to lay with the interlocking pegs and the tiles could be cut easily using a circular saw and jigsaw. Once all of the tiles were placed, Simon used to remaining sharp sand to fill in any gaps around the edge and ensure that no tiles could move when walked on.
Finally, all that was left to do was to blow up his hot tub, fill it with water, heat up and enjoy!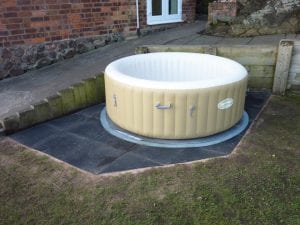 Conclusion
Simon was and still is incredibly pleased with his new inflatable rubber hot tub base and Lay-Z-Spa!
Simon told us: "The tiles were easy to cut (using a combination of a circular saw and a jigsaw) and reasonably easy to lay. The interlocking pins limit the tiles from bending and prevent any protruding edges presenting trip hazards
Ordering was straightforward and delivery was prompt, being well-packaged in easy-to-handle packs of four.  Our only regret was that we hadn't arranged to pick up when in Chesterfield a week earlier!"
A huge thank you to Simon for using our fully recycled inflatable rubber hot tub base panels and for sending in the photos of his installation to allow us to create this case study. Should you have any questions regarding our products or have any photos of your installation to share then please do not hesitate to get in touch via the contact us page.
Recycled Rubber Inflatable Tub Bases