HotTubs and Jacuzzi's used to be a luxury that not many people could afford or even thought about acquiring for themselves, but in recent times they have become as commonly available as a garden shed or water feature. This sudden rise in popularity has lead to multiple manufacturers creating a multitude of makes and models of spas that no one can keep up to date with. The rise in the number of easily available spas led to our creation of the Hot Tub Base, a strong and permeable yet easy to install grid which is compatible with all types of Hot Tubs, Jacuzzi's and Spas. After ordering his new hot tub Nick needed a suitable base for his garden, read on to see what he decided on.
Jump To:
The Project and Products
When buying a Hot Tub there are a number of questions you must first ask yourself; how much do you want to spend? How many seats do you need? Do we buy it online? These are just a few thoughts to run through your mind. However when it comes to the base not many people think of every alternative, they will simply stand it on existing paving stones or decking and move on. What they do fail to realise is that without researching and finding out what the best option is that their paving stones can break, decking can become mouldy and weak just from a hot tub being stood on them as they aren't made purposefully as a hot tub foundation.
Had they researched like Nick, they could have had a fully recycled plastic base that can hold up to 420 tonnes of weight, is weather and rot resistant whilst being incredibly easy to install. Nick found us and ordered an 8ft x 8ft Hot Tub Base the same day. Arriving 3 days later in easy to manage boxes, he could store them easily until it was time to lay the base. Along with the base Nick also ordered a Geo-Textile Membrane which is laid under the base, it allows for any water to drain away naturally but at the same time stops unwanted weeds and plants from growing up through the base.
Nick's hot tub is the Master Spas Evolution V2 from The Hot Tub Superstore in Blackpool.
Along with these Nick bought the following;
• Course Rubble Material (to form a sub base) from a local builders merchant
• Decorative Gravel from a local builders merchant

The Work
To start off the project Nick outlined his hot tub base area and marked this out using 4 sticks in each corner. From there he removed the existing turf and disposed of it responsibly. Once the base area was dug down deep enough the membrane was laid in the 'hole' and secured in the ground using wooden rods.
Nick then filled the membrane with a thin layer of course rubble material which would make as solid foundation for the Base to stand on. Nick then unpacked our Plastic Base and starting from one corner laid the pieces one at a time connecting them as he went along ensuring they were secure. By far one of the quickest and easiest jobs of the project.
With the base laid and secure it was filled with decorative gravel which was a similar colour to the rubbel material under the base. Around 8kgs of gravel is needed to fill each individual grid fully.
Finally, the steps to the hot tub were laid on a membrane and gravel base which sticks a little out at the front of the spa.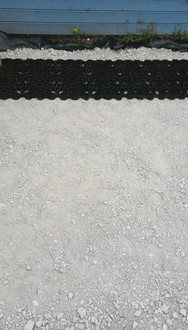 Conclusion
Nick is incredibly pleased with how the entire projected turned out and can't wait to get in the hot tub! He told us how impressed he was with the base, it was incredibly easy to lay and much cheaper than if someone would have been employed to lay a full concrete base instead.
A huge thank you to Nick for the photos and information he sent us to be able to create this case study.
If you have any questions regarding our bases then do not hesitate to contact us.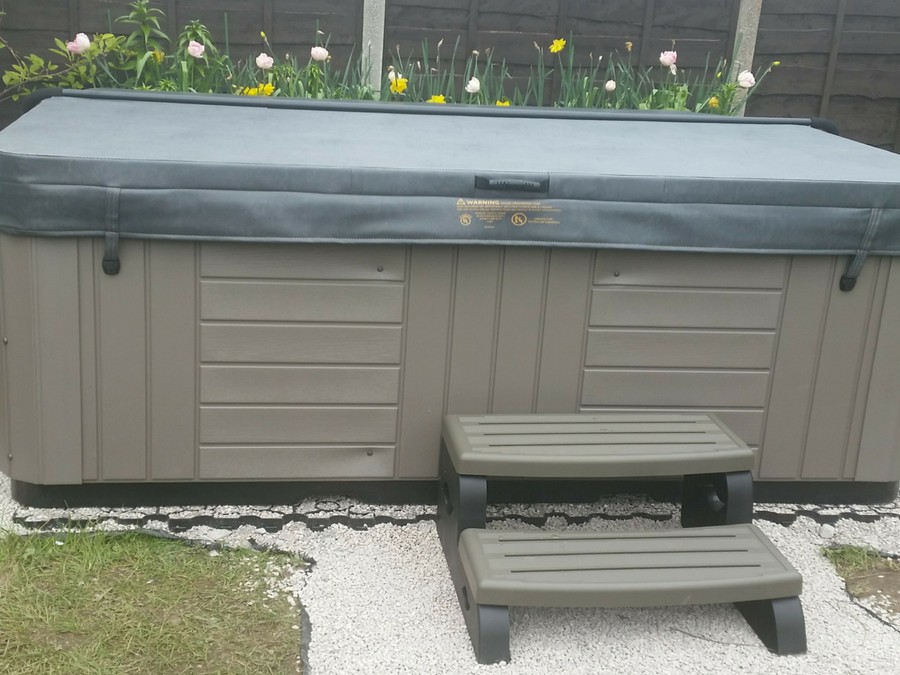 100% Recycled Plastic Hot Tub Foundations