When it comes to deciding on the foundation for your brand new hot tub or spa, there are a number of things you must first take into account. First of all is the strength, when full with water hot tubs can weigh tonnes so can your base support that. Next, is permeability, will rain water or spilled water drain away or will it sit beside or below your hot tub. Finally is life time, will the base stand up to the British weather or will the base need replacing every year or so. One product in particular ticks all of the boxes to the previous questions, our plastic hot tub base is able to hold up to 420 tonnes per sqm, is permeable and is UV & weather resistant and can last for years if installed correctly.
Jump To:
The Project
Gary and Sheena had just bought themselves a Hot Tub when they decided to add to their already great decking in the corner of their garden. They chose to extend the decking and incorporate the new hot tub into the deck. However to do this, they needed a strong base that would protect the underside and surrounding area. This is because most of their spa would be hidden away and hard to reach should any problems arise in the future. Preparation and prevention is far better than reacting and trying to cure the problem.
Along with the possible bacterial and other fungal build up, there are also possible external issues. Should their base not be permeable then any excess water that is spilled below the hot tub could damage the exterior. The damage can come from a number of issues such as rotting, floods, surface water and sometimes even slipping. That is when they found our Plastic Hot Tub Base and decided it would be the perfect product thanks to its strength and protection qualities.
Read on to find out what Gary and Sheena did with our base, their new hot tub and the decking!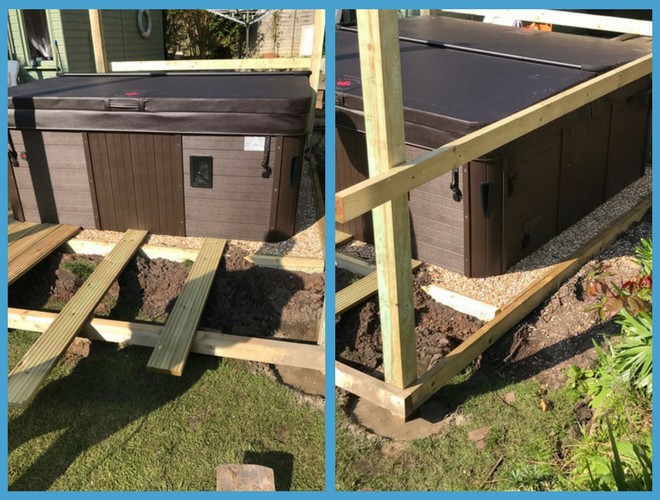 Work Involved
Gary and Sheena knew the dimensions of their new hot tub so were able to work out exactly how many Hot Tub Base Panels they would need. They ordered 49 panels which arrived 3 working days later in easy to manage boxes that could be moved and stored until the installation day arrived.
When it was time to install the base, they started by outlining where the base would be installed. This gave them a rough outline to work towards. They began removing some of the existing turf to create a small hole for the base to sit in. Once the turf had been removed and disposed of, a layer of Geo-Textile Hot Tub Membrane was laid and secured into the ground using Hot Tub Membrane Staples. Membrane is used to allow water to drain away naturally whilst being a barrier and stopping weeds and plants from growing up and through the base.
With the membrane now secured the actual base could be installed. Starting in one corner, each panel is laid one by one simply by laying and attaching to the nearest panels using our slot and peg system. We were told by Gary and Sheena how simple the base was to install and they would not hesitate to use it again. Once the base was complete they filled the entire area with decorative gravel.
Finally, with the base complete, the hot tub was craned in and an external team was brought in to extend the decking from the front of the shed, around the hot tub a little further up the garden.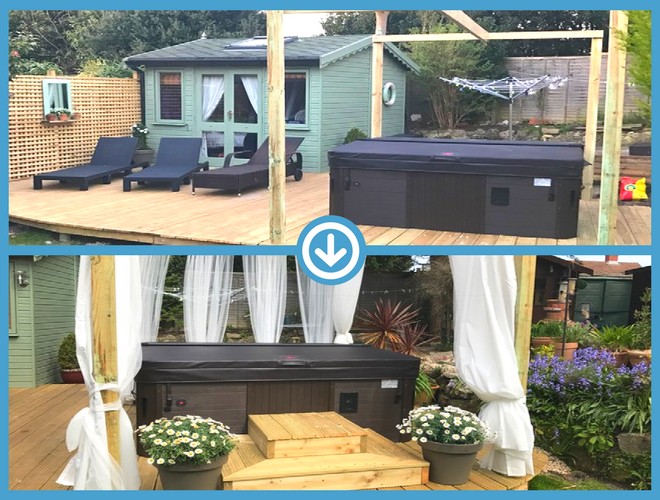 Conclusion
Sheena and Gary are incredibly happy with how their project has turned out. We can see why too, their garden looks like it is straight out of a magazine, a fantastic job! Although usually only a small part of a larger project, we are glad our base can help people begin to transform their gardens and also protect their sometimes expensive hot tubs or spas. We are very proud of the fact that our base can be installed by almost anyone thanks to its easy slot and peg system.
We would like to say a huge thank you to Sheena and Gary for sending us the photos and information to create this case study! Should you have any questions regarding our products or images to share with us then please do contact us.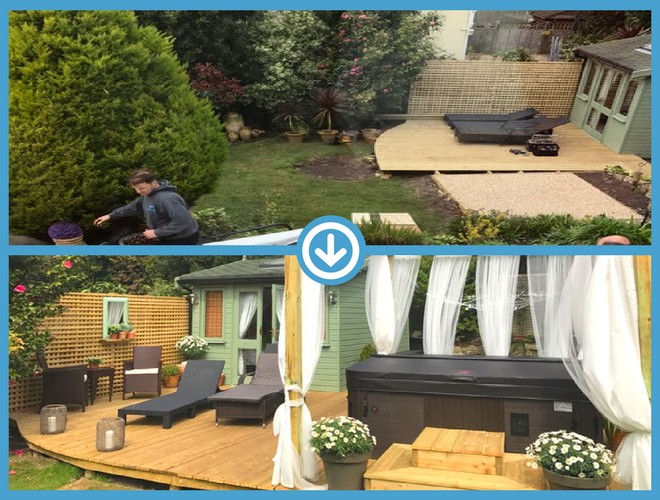 100% Recycled Plastic Hot Tub Foundations