That's right! We have a sequel to "Greenhouse Base Customer Review". Who would have thought that? If you haven't read the first one already scroll down and have a read. If you have, come and see what Mike has done this time to improve his already brilliant Greenhouse. Well, spoiler alert; it's bigger by the end!
Jump To:
The Project
In case you missed the thrilling first blog post, make sure you read Greenhouse Base Customer Review before you carry on.
Following on from the last blog post, Mike contacted us to purchase more Greenhouse Base as he was looking to upgrade his greenhouse. As the last project had been such a success he didn't hesitate in ordering from us. Mike ordered a 6ft x 4ft greenhouse base along with Membrane and Staples.
He was looking to just about double the size of his greenhouse to enable him to grow more up on tables/sides. To start Mike took apart his old greenhouse leaving just the old base, he then unpacked his new base and rolled up his sleeves.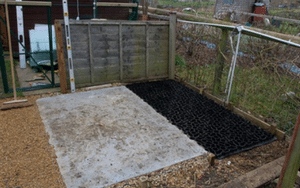 The Work
Mike began his ground preparation by digging around his old base to a depth of 60mm and by using a large spirit level he was able to ensure his base would straight and there would be no gaps around the base of the greenhouse for any intruders or rogue weather to gain entry.
Once the soil had been removed and correctly disposed of, Mike then laid the sheet of membrane that he bought from us and stapled it down as he went along.
After, the membrane was secured it was time for Mike to assemble and lay the Greenhouse base, which again was incredibly simple and just as fast as the first time. Should you be struggling at all laying your base, then have a read of our instructions page which helps you prepare your ground, lay membrane and then your base and gravel.
Next, decorative gravel is then laid onto the base, this fills the open structure while still allowing for water to flow away naturally.
Finally, the biggest job. Mike's old greenhouse wasn't big enough which was the whole point of this project. So a new, bigger and better Greenhouse was bought and installed on his now bigger and better base. As you can see from the photos below, it looks fantastic!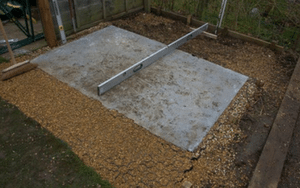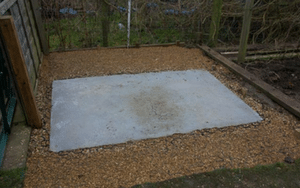 Conclusion 
Since Mike's last project using our Greenhouse base was such a success, there were very high standards to live up to. As you can probably tell, the second project was just as, maybe even more successful. Mike now has an amazing, larger greenhouse with a strong, permeable and long-lasting base that can be moved or added to should he need to again!
Mike only spent an extra £50 to extend his Greenhouse Base, which almost doubled his greenhouse area for next to nothing! So not only is our products great, but they are all very competitively priced.
A massive thank you to Mike for sending in his photos for a second time! We really do appreciate it.
If you have photos to send in or any questions to ask then please do get in touch!