Each panel is made in the UK from 100% recycled plastic
If you are planning to erect a shed or any structure in your yard to store your necessary tools or even as an office, then you also know that the principles are the same as a house. First, you need a foundation or commonly called a shed base.
The traditional methods of erecting sheds include having a concrete or steel base. There are problems with both. Concrete makes your area look untidy especially should you want to move your shed later while steel structures succumb to the elements over a long period. Concrete also has the disadvantage of starting to crack if it is not perfectly aligned.
With the ever-increasing emphasis being placed on the environment and how we can keep our carbon footprint down and keep ourselves Eco-Friendly, emphasis are placed on recyclable materials. We have designed a plastic shed base made from 100% recyclable plastic and thus keeping the carbon footprint down. It uses an interlocking plastic shed base panel system where these panels are interlocked to any size you require. What are the benefits of a plastic shed system?
Caring For the Environment
The shed panels are manufactured from recycled plastic. This means that less plastic is thrown away as trash and ending up on trash heaps where they have no use whatsoever. The planet takes enough strain as it is and we are doing our bit to decrease the strain and pollution.
Longevity
Plastic is not like any other material you may consider for your shed base. It does not degrade or rot and will last a lifetime. Other base forms just do not stand the elements as plastic does. Further, our unique open structure wheick design promotes airflow around the shed base that provides further protection.
Light and movable
Our panels weigh a mere 500 grams that makes them extremely easy to handle and move around to any space in your garden should you want to move your shed or structure. You cannot do this with concrete and steel is heavy to move.
Strength Test
Most people might think that plastic will not be strong enough to hold a structure. Our panels have been tested unfilled to 320 tonnes per square meter under immense compression – so it is strong and sturdy enough to carry heavy structures.
Easy to Install
Traditional shed bases require a flat surface and it does take time to install these traditional methods. Concrete needs to dry and definitely requires a flat surface. The mixture needs to be right otherwise cracks will start forming and you have to rebuild again. Steel is heavy and requires welding or some other type of mechanical method. Wood rots, especially in constant wet weather, even if you treat it. We use interlocking panels that you can cut and measure and cut to the exact size you require.
Cost Effectiveness
Ultimately, it all boils down to cost. Traditional methods are expensive as concrete, steel and wood are far more expensive than plastic. Who wants to waste wood like that in any case? Our product is cost-effective and will cost you far less now and in the future.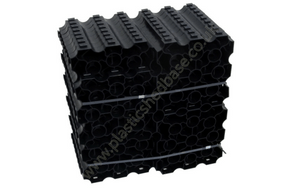 If you are looking for an effective shed base solution that is also looking after the environment, do not hesitate to contact The Shed Base Company and one of our experts will assist you. Alternatively, contact us on 01246589021.