The Shed Base Company
Plastic shed bases are a rather new concept when constructing your garden shed, cabin or small office. You will also find many shed base companies all around the UK, but how do you know that it is the right company for you? How do you determine that the shed base company you are looking for will deliver on their promises?
Follow these guidelines in determining the best shed base company for your requirements.
The Service
As with any service industry, you need a shed base company that will assist you all the way to the finished shed product. Customer reviews on websites are usually a good indication of how good a company is. It is also more rewarding when a company has received Customer Service Awards.
Shed Base Company has been awarded the gold seal from the renowned eKomi feedback company with a rating of 4.8 out of 5. This is real feedback through an independent firm. We place our customers first and offer a delivery service, 365 days per year online ordering and qualified assistance.
The Product
There is a definite movement away from traditional concrete, steel and wood bases to be used as shed bases. If you want to move your garden structure, you need a base that is movable, strong and can withstand the rain, sun and wind.
Many plastic base companies claim to have a unique product without proof of certification or testing methods used on the strength and sturdiness of their bases.
At Shed Base Company, we only use recycled plastic in the manufacturing process of our interlocking grid design panels. Yes, as important as our customers are to us, so is the environment.
Further, our shed base panels have been tested unfilled to 320 tonnes per square meter that makes them strong and sturdy. All our products carry a warranty so there are no arguments later.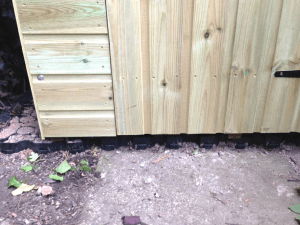 The Price
There are many companies who will offer you an inferior product at a very "good price", only to find that this will cost you more in the long run.
Gather three quotes and if one is excessively low or excessively high, discard it. Read reviews on the others and ensure that they actually deliver as promised through reviewing their product online or through customer reviews.
At Shed Base Company, we believe that customers need to get the best possible product at the best possible price. Except for the fact that our shed base are made from recycled plastic, it is also offered to customers at affordable prices.
Warranties and After Sales
It is so sad that once a customer has bought a company's product, they offer no warranty or even worse – no after sales service.
On the Shed Base Company website, you will find detailed instructions on how to install our product. If any customer has any questions, they are more than welcome to contact us for expert advice or visit us in person.
Our products also carry an extensive warranty that shows customers that we believe in our product wholeheartedly.
If you need a shed base company that offers you service beyond customer expectation, a quality product at an affordable price and extensive after-sales service, visit our website at Shed Base Company or contact us on 01246-589-021