Save Money and Time Building a Plastic Shed Base, Here's How!
Who's ready to learn how to build a plastic shed base?
Let's start by telling you all the great things about why the plastic shed base is the right choice for you. First off, the plastic shed base is made of…You guessed it – Plastic. But it's not just any plastic; it is 100% recycled plastic. By recycling the plastic, we are helping the environment and keeping the plastic out of the already overflowing landfills.
Bet you didn't know that it takes 450 years for plastic to break down. This is good and bad news. Good because the plastic shed base you are building will last a lifetime but bad because if we don't recycle it is bad for the environment. Go Green!
Plastic Shed Base Panel Kits
Here is another thing to know on how to build your plastic shed base. The plastic shed base can be purchased in either a kit, which comes in a variety of sizes, or as individual panels. You can even combine the two by purchasing a kit and panels to reach your desired plastic shed base size. You can even cut the panels by using a hacksaw to trim the panels down to size, now that's handy!
The panels are 330 x 330 x 40 mm in dimension. As previously mentioned the panels can be bought individually or as a kit. The kit comes with plastic shed base panels, ground cover membrane and fixing pegs as well as complete instructions for an easy install. The instructions have everything you need to know on how to build a plastic shed base.
Did we mention how easy it is to build your plastic shed base? Well, we just did. It is as easy as simply placing one of panels' edges over the edge of another panel and snapping it into place. The interlocking system makes building your plastic shed base a snap. Easy to snap together and install makes for an easy installation experience, meaning you can then crack on with putting up your new shed or garden building.
Cost & Time Saving and 100% Recycled
The plastic base is great for saving you money. Because it is made from 100% recycled plastic you don't need to worry about fixing the rusty spots like you would for a metal shed base. It also won't crack or crumble like a concrete slab would, plus you won't have the leftover slab in your yard. Wood shed bases can get bugs or decay…but not the plastic shed base. No need to spray nasty chemicals to try and keep the bugs away or prevent rust spots. The plastic shed bases are ergonomic and will save you money. Now who doesn't want those great things when it comes to building your shed base.
There are so many great reasons why you should choose a plastic shed base. These are just a few of the great things offered by using the base for your shed needs. If you decide you want to move your shed the panels are lightweight so they are easy to move. The panels are also UV and weather resilient, sturdy and strong. Now you have all the information, let's get the project started!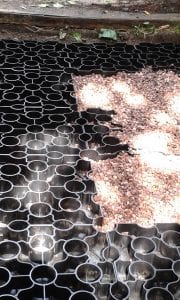 How do you install the base panels?
A detailed article on why you should use a plastic base or download the Shed Base Installation Guide.  Our Guide on how to Build a Shed base explains how easy they are to assemble in more detail.
Need Help? Have Questions? Contact US – Call 01246 589021