How to Stop Your Shed Bases Rotting Over Time
It's that time of year again when everyone is out in the garden, planting flowers and mowing the lawn. You may be thinking that you really could use a shed to house all of your gardening tools in but you don't have any hard standing areas to put a garden building on. With the help of our plastic shed base you can create a stable and strong surface on any area of your lawn.
Creating a concrete base can be time-consuming and also very expensive, especially if you have to get a landscaper to install it for you. Our easy to install plastic shed bases are a simple DIY project even for beginners, meaning you can save money on installation costs.
Each base is made up of individual panels (330mm x 330mm x 40mm) that are interlocked together to form any shape or sized base, making them suitable for most types of garden building. They can also be cut or trimmed down to incorporate any odd curves or angles that you may be faced with.
To calculate the number of panels you will need, simply multiply the length x width of your shed (in feet) and you will be left with the total number of panels needed. For example, for an 8" x 10" shed you would need a total of 80 panels.
Don't be fooled by how lightweight the plastic shed base panels are, you may be able to pick them up and move them around easily, but once installed they will hold up to 320 tonnes per square meter, making them the strongest plastic base on the market!
Each panel is manufactured in the UK from 100% recycled plastic, meaning that not only are they user friendly but they are Eco-Friendly too. Each panel has been engineered to be resistant to erosion and weatherproof, giving them a great advantage over a traditional concrete base that may begin to crack over time or a wooden base that will decompose in the damp weather. In fact, our plastic shed bases will outlive most wooden sheds.
Another advantage of our plastic shed bases is that if you need to move your shed for any reason, you can simply take up the plastic shed base panels and re-install them in another location, now that's something you couldn't do with a concrete base!
You aren't just limited to traditional sheds with our plastic bases either, maybe you've got a new greenhouse, or a large log cabin that needs a base, well that's no problem. Our plastic shed bases are suitable for any type of garden building, big or small!
When it comes to sheds, it really is all about the base, so make sure you choose yours wisely. A good base will prolong the life of your shed or outdoor building, giving you total peace of mind.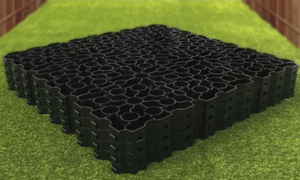 Here's How to Assemble a Plastic Shed Base:
A detailed article on why you should use plastic shed bases or download the Shed Bases – Installation Guide.  Our Guide on how to Build Plastic Shed bases explains how easy they are to assemble in more detail.
Need Help? Have Questions? Contact Us – Call 01246 589021