Whether you're installing a playhouse, a greenhouse, a shed or even a log cabin, our recycled plastic bases are compatible with almost any garden building. Strength is no issue as our base can hold up to 420 tonnes per square metre when unfilled and is also SuDS compliant which means it allows for rain and excess water to drain away naturally. Susan was looking for a base for her new playhouse, she could have chosen a more conventional base such as concrete or wood but wanted far more benefits. Read on to find out what base Susan chose and installed.
Jump To:
The Project
With the summer heat very much here, Susan got in touch with us as she was looking for a suitable base for her granddaughters playhouse. The playhouse was going to be put into her garden as a play area. And as her granddaughter is young she was wanting a strong base that would last a long time and also help prolong the life of the new playhouse they had just bought.
Luckily Susan found our website and after a browse of our informative product page, she decided that it would be the perfect base for their playhouse. Ordered on the same day she found our site, Susan received her base 3 working days later. Read on to see the work involved with laying and installing a 9ft x 9ft Plastic Playhouse Base.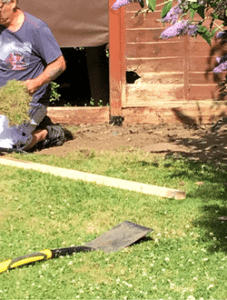 The Work
After having a read of our Installation Guide and How to Install A Plastic Shed Base Blog, Susan and her husband knew exactly how to lay the base.
They began by creating a rough outline of where the base would be stood. The area then had to be cleared as it was covered by 2 paving stones, lawn and plants. This was quickly done by moving the slabs and digging down the entire area. The removed materials were then disposed of responsibly.
With the area now clear, Susan laid a sheet of Geo-Textile Membrane and secured it in place using Metal Staples where the base would be stood, membrane allows for any water to drain away naturally whilst also stopping any weeds or plants growing up and through the base panels.
Next, was to lay the base. Arriving in easy to manage boxes, they can be stored and easily moved until the day of installation. Starting in one corner and laying each panel one at a time, simply connecting them all together using our slot and peg system the base is installed. The easiest part of the job Susan told us! The panels then can be filled with gravel but that wasn't needed for this project.
Finally, the new Playhouse could be brought in and placed onto the base knowing it would be supported by a strong and permeable base.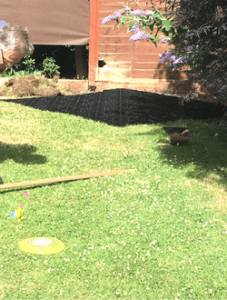 Conclusion
As you can see from the photos, Susan's garden and new playhouse looks amazing! We're certain her granddaughter will have years of fun from it and the playhouse will last thanks to our recycled plastic base.
"The base was very easy to put together and sturdy. I would certainly recommend this for any future project"
We would like to say a huge thank you to Susan and her husband for buying our plastic shed base and for sending us the photos of her project. Should you have any questions regarding our products or have some photos to send in then please do contact us.